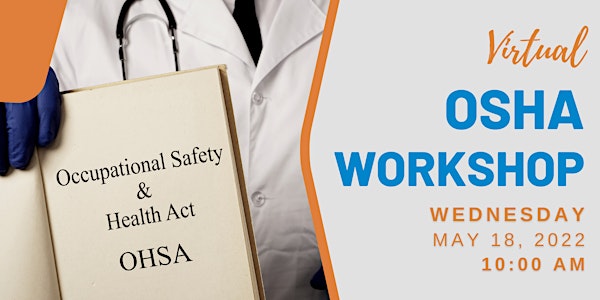 Virtual OSHA Workshop: Cal-OSHA Office Staff Training for the Central Coast
Cal OSHA/Fed OSHA Mandatory Annual Training for Santa Barbara and San Luis Obispo counties.
About this event
This year's Cal OSHA/Fed Mandatory Annual Training will be held via Zoom from 10:00 am to 12:00 pm on May 18, 2022. Registration is requested by May 17, 2022.
This workshop is for medical practices in Santa Barbara and San Luis Obispo counties. Those who register and attend will receive a "Certification of Training" upon completion.
COURSE CONTENT:
OSHA mandates training and re-training of all staff in every physician's office, each year. The course will include coverage of all new compliance regulations affecting medical practices. 
All attendees will receive a certification of completion after attending the workshop.
PRESENTER:
Carrie Champness, RN, BSN, has more than 30 years' experience in hospital, urgent care, and physician office compliance. She always brings a fresh presentation with new updates, interesting examples, and strategies to have full compliance.
HOW DO I PREPARE?
HOW TO GET THERE:
At 9:55 am on May 18, use the Zoom link and wait for your host.
The Zoom link will be sent to you via the Eventbrite reminder emails and in the CCMA calendar invite.
Keep in mind that this is a group activity, so please mute yourself so everyone can benefit from the instructor's presentation.
There will be a Q&A section at the end of the presentation.
TIPS:
A smartphone can work, but for best viewing, we recommend devices with larger monitors. 
For an optimal experience, check your WiFi connection and bandwidth before the event. 
If you have any questions, need help troubleshooting the Zoom download, please reach out to events@ccmahealth.org.
We look forward to seeing everyone there!