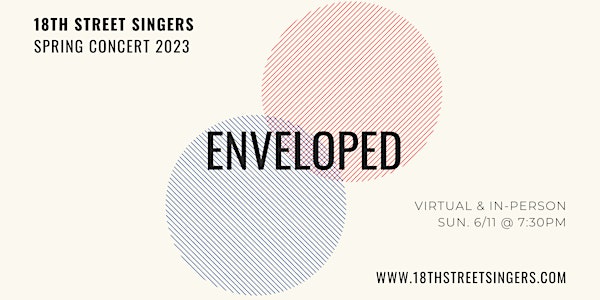 VIRTUAL OPTION - Enveloped: An 18th St Singers Spring Concert Livestream
Not local to DC or unable to come in person? Join us for the a Twitch VIRTUAL livestream of our concert on Sunday, June 11th!
By The 18th Street Singers
Date and time
Sunday, June 11 · 4:30 - 6:30pm PDT
Refund Policy
Contact the organizer to request a refund.
Eventbrite's fee is nonrefundable.
About this event
Not local to DC or unable to come in person? Join us for the a Twitch VIRTUAL livestream of the concert on June 11th!
Registration is free (though donations are welcome) and the Twitch livestream link can be found on your digital ticket!
Concert Description: For too many of us, the past three years brought about separation and disconnection -- even now in our re-emergence, our society is facing an epidemic of loneliness that can only be healed through social connection and community. Communal singing has long provided a strong means of connection both for musicians and their audiences, tying people together with beauty, ritual, and the evocation of shared emotions.
In Enveloped, the 18th Street Singers are leaning into the healing power of music by featuring pieces that either literally or figuratively surround and embrace listeners (to envelop them, if you will). Some of these works divide the choir into an unusually large number of parts letting us encircle the concert space, such as the triple-choir work "Kyrie" from Victoria's Missa Laetatus Sum. Joby Talbott's "Santiago" from Path of Miracles pulls the audience into a physical and spiritual journey painted richly by 17 distinct voice parts.
Other pieces seek to comfort and build connection: "Sofðu unga ástin mín," a traditional Icelandic lullaby masterfully arranged by Jocelyn Hagen, offers a parent's reassuring embrace to their child in the face of fear. Tallis' "Loquebantur," Ken Burton's "Many Are the Wonders," and Joel Thompon's "America Will Be" reflect on the many backgrounds, cultures, and languages that can come together in faith or common purpose -- literally immersing listeners in multiple languages and musical traditions all at once.
Join us Sunday, June 11th (in-person or for our 2nd ever livestream) and Thursday, June 15th (in-person only) for Enveloped: An 18th Street Singers Spring Concert as we wrap, cover, surround completely our community, which is stronger together and gathered in harmony once more.
Concert tickets: For this concert series, tickets are available to reserve online for free and donate-what-you'd-like ticket options. Reserve your tickets today, mark your calendars, and join our email listserv / follow us on social media to stay up to date with all concert announcements!
About the organizer
Founded in 2004, the 18th Street Singers is a fifty-voice ensemble committed to musical excellence and bringing a fresh and more accessible take on choral music to a wider audience in Washington, DC. At the same time, we're dedicated to being a supportive community for our members, who come from all walks of life and are cherished friends and colleagues.
We seek to program concerts that move our members and our audiences by unabashedly mixing the best of genres. We sing music that you think of as "traditional" choral music, we find lesser-known gems, and we prioritize amplifying the voices, composers, and themes that are often missing at classical music concerts.
We have performed at a wide range of prestigious venues, such as at the Sixth & I Historic Synagogue, the Kennedy Center, the National Christmas Tree Lighting Ceremony (attended by President Barack Obama), and fielding repeat invitations to the Piccolo Spoleto Festival in Charleston. And we've also stepped into the spotlight by performing as back-up singers for Demi Lovato and Hugh Jackman and being voted DC's Best Local Choral Group in Washington City Paper's Best of DC 2018, 2019, 2020, & 2022.

We are an all-volunteer organization (including all artistic and management positions), but many of our members have studied music professionally or are paid singers in other ensembles. Some of us grew up here, and some of us are new to the area, but we come together to build a community and share our love for singing with others!