Develop creative writing and performance skills while discovering your inner comedic genius!
About this Event
Our first comedy classes for kids started in NYC schools back in 2009. We had already been performing IMPROV 4 KIDS at schools, libraries and weekly shows in times Square since 2003.
NEW SESSION DETAILS MAY 16-JUNE 11
Saturdays 10am SOLD OUT
Sundays 5pm (Might be mixed with some younger kids)
Sundays 6pm (Might be mixed with some older teens)
Mondays 6p (Might be mixed with some younger kids)
Wednesdays 6pm Improv ONLY
Once you register you will be sent ZOOM links and online resources (videos, worksheets, glossary of terms for stand-up and improv etc)
5-10 minutes Each class will start with a brief HOW TO discussion on Stand-Up comedy, usually a brainstorming or outlining ideas exercise, OR ways to add the funny in general.
30-minutes OPEN MIC Students get 2-5 minutes to share their stand-up comedy ideas which will develop into original comedy routines over the course of 4 weeks
45-minutes of Improv each class will include a series of games, mostly performance type that could be used in a show. Every class will include ONE large group game where everyone participate. Then a smaller scene game where student take turn on and off stage.
ONLINE SHOWCASES - Students will be invited to a weekly comedy showcase. We will rotate the cast so students get a chance to perform every 6-8 weeks. Some of our more advanced students (AKA The Class Clowns) will pop in every 2-3 weeks to MC games.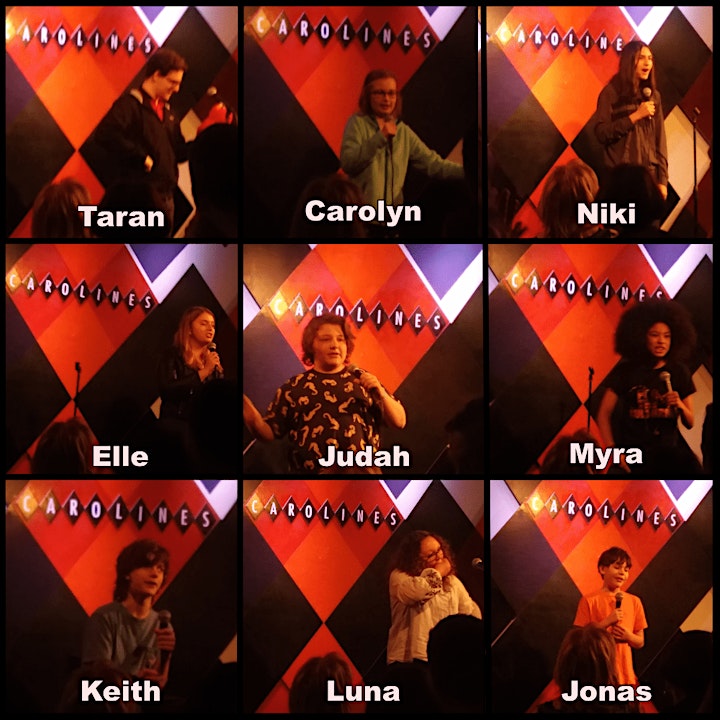 Teacher: Walt Frasier has one of the leading schools in New York City (EIGHT IS NEVER ENOUGH - AKA Improv 4 Kids, Improv 4 Teens) for kids & teens learning both stand-up and improv comedy.. His student, 12yo Carolyn White, was named the "Funniest kid in America" by Kenan Thompson, after winning the SNL star's national talent search.. Mr. Frasier also directs numerous programs in residency at NYC area schools and camps. TV credits include Billions, Royal Pains, Blue Bloods, Lilyhammer, Letterman and NICK. Theater Credit faves include Harold Hill (Music man), Prince Karl Franz (Student Prince), Rodolfo (La Boheme), Henry VIII (A Man for All Seasons), Jack (Where's Charlie), Avram (Fiddler on the Roof). Also the 2nd national tour of Scarlet Pimpernel, multiple Fringe Festival and other original works in NYC.