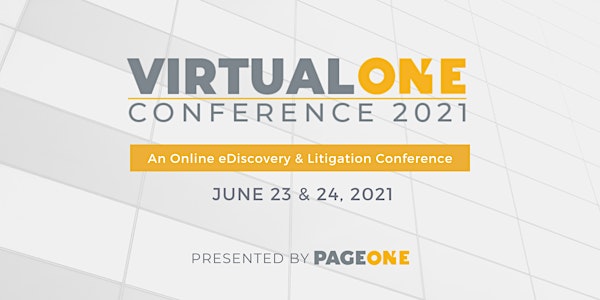 Virtual One Conference 2021
An Online eDiscovery & Litigation Conference
About this event
Page One, an eDiscovery and litigation support firm, is proud to bring the Virtual One Conference for the second year in a row.
Page One invites you to explore and learn about some of the most relevant topics in the industry through exclusive live-streamed and on-demand video content. We're offering discussions on litigation, empathy, diversity in law, data forensics, eDiscovery, and more.
This year, we're also featuring a group of Community Heroes, organizations that are making the world a better place. We hope that the event will be not only informative but also uplifting.
Hear from industry experts on the following topics:
The Empathetic Workplace - Katharine Manning, Author of The Empathetic Workplace and President at Blackbird DC
Diversity Conversations: It's Not Rocket Science - Demeka Fields, Counsel - Global Sports Marketing, Data Privacy at New Balance & Marcus Maples, Business Litigation Shareholder at Baker Donelson
Community Heroes: Relativity Justice for Change: Johnathan Hill, Community Engagement Lead at Relativity & Colleen Costello, Head of Social Impact at Relativity
How to Manage Trademark Infringement Concerns During Live Events - Lauren Dienes-Middlen, Senior VP of Intellectual Property at Worldwide Wrestling Entertainment (WWE)
What Are Your Frustrations In eDiscovery Today? - Stephanie Clerkin, Director of Litigation Support, Korein Tillery & Ray Biederman, President at Discovery Master
eDiscovery Project Management: How to Get it Right! - Michael Quartararo, President of ACEDS
Post Pandemic Business Concerns - Jason Sampson, Founder of Venerable Law Firm
eDiscovery for the Rest of Us - Tom O'Connor, Director of Gulf Coast Legal Technology Center
Finding a Vendor & Improving Value - Tony Mendenhall, Director of eDiscovery Operations at Baker Donelson & Clinton Sanko, Shareholder at Baker Donelson