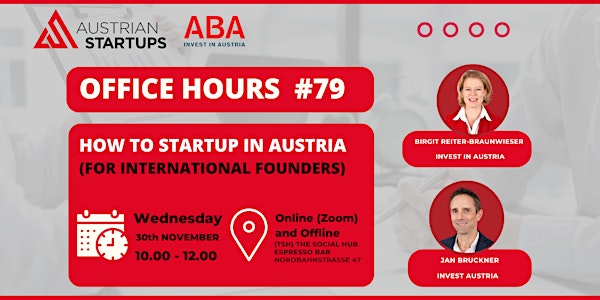 Virtual Office Hours #79: Startup in Austria (for International Founders)
1:1 FREE Consulting on to how to start a Business or Startup in Austria (for International founders)
About this event
AustrianStartups Office Hours with ABA- Invest in Austria: an opportunity for you to connect with Birgit Reiter-Braunwieser from Invest in Austria (ABA) during our FREE of cost 1-on-1 consulting sessions.
___________
🗓️ Date: Wednesday, November 30th, 10:00-12:00 pm
📍 Location: ONLINE (🎧 Zoom - we will send you the link shortly before the event)
Alternatively, you can also join OFFLINE:
📍 @Espresso Bar @The Social Hub (Nordbahnstrasse 47)
(first come, first serve)
👉 CLAIM YOUR 20-MINUTES SLOT NOW! (via eventbrite)
LIMITED SLOTS, register only if you can make it!
___________
Would you like to start a Business in Austria?`
Dear startups! Undecided between founding in Austria and other places? In need of guidance for funding and financing options in Austria – especially in times like these? Questions regarding residence and work permits? Help with finding corporate contacts, options for your first company location, in need of tax and legal orientation? As a governmental agency, ABA offers cost-free information and customized support to international founders.
This time, on Wednesday, November 30th, Birgit Reiter-Braunwieser and Jan Bruckner, experts from ABA - Invest in Austria will answer your burning questions concerning funding and financing options in Austria. If you are an international founder or startup who wants to get started in Austria, this is the ideal opportunity to get guidance and tailor-made advice.
ABOUT INVEST IN AUSTRIA
ABA - Invest in Austria is the first point of contact for foreign companies aiming to establish their own business in Austria. It is the investment promotion agency of the Ministry of Digital and Economic Affairs. It offers international innovative company founders and interested investors information and data about business conditions in Austria and personal support when founding in Austria. As a governmental agency, all services are cost-free.
ABOUT Birgit Reiter-Braunwieser
Birgit Reiter-Braunwieser, an expert in direct investment and consulting on starting a business in Austria for more than 20 years will be happy to be of service!
ABOUT Jan Bruckner
Jan Bruckner, with 15 years of background in international trade and foreign direct investment, Jan will support the set up and expansion of your business in Austria.
____________________________
You aren't able to join us at TSH but you are interested in talking to the experts? – don't worry, this service really is for startups ALL OVER AUSTRIA.
All slots are taken? No worries! Just put your name on the waiting list and you might still have the chance to talk to our partner.
http://bit.ly/ohwaitinglist
#startup #entrepreneur #internationalization #goglobal #startups #officehours #investinaustria #startupevents #entrepreneurshipevents