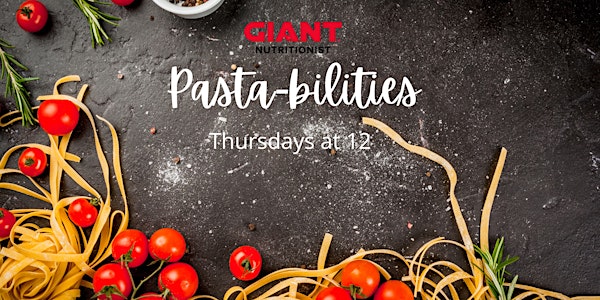 VIRTUAL October: Pasta-bilities
Celebrate National Pasta Month with plenty of pasta-bilities from our dietitians!
About this event
You can earn 50 Choice Points for each class that you attend in October. Customer must provide GIANT/Martins CARD number upon registration. Attendance to class is required to receive points. Please allow up to 14 business days to see points loaded in your account.
October 6 at 12pm: Parmesan Spinach Mushroom Pasta Skillet with Joni
Ingredients/Supplies:
14 oz. farfalle or penne pasta
3 tablespoons olive oil
3 cloves garlic, minced
14 oz. mushrooms, sliced
10 oz. fresh spinach
1/2 cup (125ml) low sodium vegetable broth
Fresh cracked black pepper, to taste
1 teaspoon Italian seasoning
1/2 cup parmesan cheese, grated
1 teaspoon red chili pepper flakes, optional
Supplies : Pot, strainer, skillet, spatula
October 13 at 12pm: Butternut Squash Mac & Cheese with Charlotte
Ingredients/Supplies:
1 lb cubed butternut squash
10 ounces whole wheat elbow pasta
1 ½ cups low sodium vegetable broth
½ tsp onion powder
½ tsp garlic powder
¼ cup panko breadcrumbs
2 tbsp Parmesean cheese
1 tbsp unsalted butter
1 medium shallot
¼ cup all-purpose flour
2 cups 2% milk
½ cup shredded gruyere cheese
½ cup shredded cheddar cheese
Kosher salt and ground black pepper
Optional garnishes: fresh chopped chives, sriracha sauce
Supplies: Nonstick cooking spray, 9" x 11" glass baking dish, large pot, slotted spoon, food processor or blender, medium pot, colander, measuring cup/spoons, small bowl, medium saucepan, large spoon, whisk
October 20 at 12pm: Spicy Pumpkin and Pesto Stuffed Shells with Kilene
Ingredients/Supplies:
2 tablespoons olive oil
1 lb. ground chicken
1 red bell pepper, chopped
1 cup pumpkin puree
1/2 cup Bonafide Provisions Broth
1 cup milk
2 teaspoons dried oregano
1 big pinch crushed red pepper flakes, to taste
salt and pepper, to taste
1 box jumbo shells
16 ounces ricotta cheese
2 cups shredded fontina cheese (can also use Gruyère, Provolone, or Gouda)
3/4 cup pesto
8 ounces mozzarella, torn
Fresh basil, optional
Supplies: oven 350 degrees, 9x13 baking dish, spray, 1 pan and 1 pot/stove, spoon, bowl, colander, cutting board, knife, measuring utensils
October 27 at 12pm: Spaghetti & Eyeballs with Shanna
Ingredients/Supplies:
Angel hair or other past of choice
Spaghetti sauce of choice
1 package Nature's Promise chicken meatballs
Mozzarella cheese
Olives
Supplies: large pot, strainer, skillet