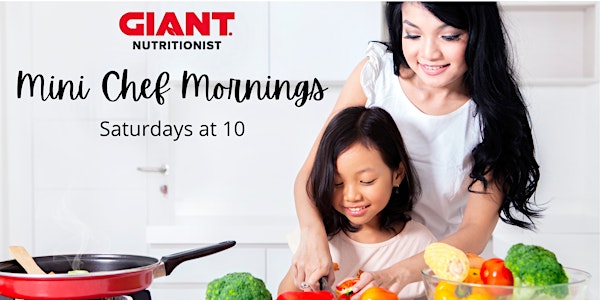 VIRTUAL October: Mini Chef Mornings
Get your kids in the kitchen with our dietitians for some Disney inspired recipes! Classes are for kids of all ages.
About this event
You can earn 50 Choice Points for each class that you attend in October. Customer must provide GIANT/Martins CARD number upon registration. Attendance to class is required to receive points. Please allow up to 14 business days to see points loaded in your account.
October 1 at 10am: Moana's Coconut Pear Donuts with Charlotte
Ingredients/Supplies:
1 pear
¼ cup plain or vanilla Greek yogurt
2 tablespoons unsweetened coconut flakes
2 tablespoons rainbow sprinkles
2 tablespoons mini chocolate chips
2 chunks of canned pineapple
Supplies: cutting board, knife, plate, measuring cup/spoons
October 8 at 10am: Captain Hook's Oat Planks with Mary
Ingredients/Supplies:
3 cups rolled oats
1/3 cup ground flaxseed
1/4 teaspoon salt
1/3 cup coconut oil, melted
1 medium ripe banana, mashed
1/2 cup honey
1/3 cup milk
1/2 teaspoon vanilla
1/2 cup peanut butter or any nut butter
1/3 cup pumpkin puree
1/4 cup maple syrup
Supplies: 8x8 in dish, mixing bowl, spoons, spatula
October 15 at 10am: Cinderella's Pumpkin Pancakes with Kilene
Ingredients/Supplies:
1 cup whole wheat flour
1 tablespoon baking powder
1 teaspoon pumpkin pie spice
¼ teaspoon nutmeg
¼ teaspoon salt
1 cup milk
1/3 cup pumpkin purée
1 egg
2 tablespoons maple syrup
½ teaspoon vanilla extract
2 tablespoons melted butter
1 cup plain Greek yogurt
1 1/2 tablespoons maple syrup
1/2 teaspoon pumpkin pie spice
Supplies: skillet or pan/stove, 3 bowls, spoons, measuring utensils, spatula
October 22 at 10am: Kronk's Spinach Puffs with Mary
Ingredients/Supplies:
1 package frozen Puff Pastry
1 package frozen spinach, 5 oz. after cooking
½ cup light cream cheese
1/2 cup feta cheese shredded or crumbled
3-5 garlic cloves minced
1 teaspoon onion powder
1/2 teaspoon garlic powder
1/2 teaspoon ground pepper
1 tablespoon melted butter
Supplies: Parchment paper, baking sheet, cutting board, knife, mixing bowl, pastry brush
October 29 at 10am: Monsters University Apple Nachos with Shanna
Ingredients/Supplies:
Granny Smith apple slices
Green, blue, orange, and purple melting chocolate
Candy eyeballs
Supplies: bowl, spoon, plate