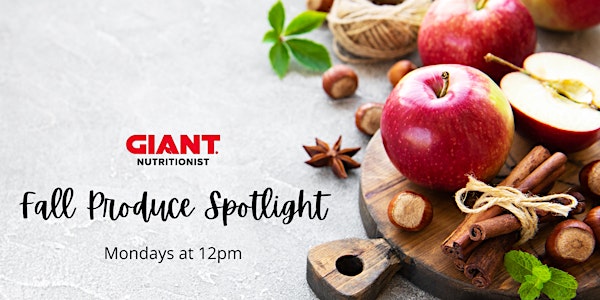 VIRTUAL October: Fall Produce Spotlight
Join our dietitians for a taste of fall as we explore Autumn's harvest!
About this event
You can earn 50 Choice Points for each class that you attend in October. Customer must provide GIANT/Martins CARD number upon registration. Attendance to class is required to receive points. Please allow up to 14 business days to see points loaded in your account.
October 3 at 12pm: Brussel Sprouts with Charlotte
Ingredients/Supplies for Dijon-Roasted Brussel Sprouts:
2 tablespoons Dijon mustard
1 tablespoon maple syrup
1 teaspoon garlic powder
¼ cup olive oil
½ red onion
2, 12 oz. packages Brussel sprouts
Supplies: large bowl, whisk, measuring cup/spoons, cutting board, knife, spoon, large baking sheet
October 10 at 12pm: Apples with Shanna
Ingredient/Supplies for Slow Cooker Pumpkin Spice Apple Sauce:
8 apples
½ cup water
¾ cup Swerve Brown Sugar Sweetener
½ teaspoon pumpkin pie spice
Supplies: cutting board, knife, measuring cups and spoons, slow cooker
October 17 at 12pm: Mushrooms with Shanna
Ingredients/Supplies for White Mushroom Pizza:
2 tablespoons olive oil
2 tablespoons butter
3 cloves garlic, minced
16 oz. cremini mushrooms, thinly sliced
½ teaspoon dried thyme
½ teaspoon dried oregano
Salt and pepper to taste
¼ cup yellow corn meal
1 lb. GIANT refrigerated pizza dough
8 oz. fresh mozzarella or burrata, sliced
1 cup ricotta cheese
Supplies: oven at 450 degrees, pizza pan, measuring spoons, knife, cutting board, large skillet
October 24 at 12pm: Sweet Potatoes with Kilene
Ingredients/Supplies for Stuffed Sweet Potatoes:
1, 24 oz. package steamable sweet potatoes
½, 5 oz. package baby kale
1 tablespoon olive oil
1 tablespoon minced garlic
1 tablespoon lemon juice
1 cup cooked red quinoa
⅓ cup shredded cheddar cheese, optional
Supplies: microwave, cutting board, knife, skillet or stove/pan, measuring utensils, baking sheet/oven (optional)
October 31 at 12pm: Pumpkin with Shanna
Ingredients/Supplies for Fresh Pumpkin Pie with Meringue Ghosts:
1 raw pie crust
2 cups mashed fresh pumpkin (not canned)
1, 12 oz. can evaporated milk
2 eggs
¾ cup brown sugar
½ teaspoon cinnamon
½ teaspoon ginger
½ teaspoon nutmeg
½ teaspoon salt
2 large egg whites
Lemon juice
Sugar
Melted chocolate
Supplies: knife, cutting board, mixer, measuring cups and spoons, baking sheet, pie dish