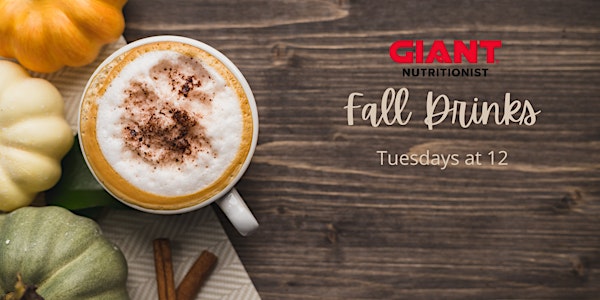 VIRTUAL October: Fall Drinks
Grab a cup and make some lovely fall sips with our dietitians!
About this event
You can earn 50 Choice Points for each class that you attend in October. Customer must provide GIANT/Martins CARD number upon registration. Attendance to class is required to receive points. Please allow up to 14 business days to see points loaded in your account.
October 4 at 12pm: Apple Cider Slushy with Air Fryer Cinnamon Sugar Donut Holes with Shanna
Ingredients/Supplies:
3 cups apple cider
1 lemon
½ teaspoon + 1 ½ teaspoons cinnamon
1 ¼ cup flour
1/3 cup + 2 tablespoons sugar
¾ teaspoon baking powder
¼ teaspoon salt
4 tablespoons cold butter
¼ cup milk
Supplies: bowls, measuring cups and spoons, air fryer, whisk, loaf pan
October 11 at 12pm: Honey Roasted Pear Sparkling Mocktail with Shanna
Ingredient/Supplies:
1, 1 lb. pear
1/3 cup honey
1 tablespoon balsamic vinegar
¼ teaspoon cinnamon
Pinch of ground nutmeg
2 tablespoons apple juice or water
Pinch of ground clove
1 teaspoon vanilla extract
24-28 ounces sparkling white grape juice
Brown sugar to coat rim
Optional garnishes: fresh thyme, sage, or rosemary
Supplies: cutting board, knife, large baking sheet, measuring cup/spoons, small bowl, whisk, brush, large spoon, food processor, large glass pitcher
October 18 at 12pm: Homemade Pumpkin Spice Latte with Charlotte
Ingredients/Supplies:
½ cup hot freshly brewed coffee or 2 espresso shots
1 cup milk of choice
2 tablespoons pumpkin puree
1-2 tablespoons maple syrup
1 tsp pumpkin pie spice
1 tsp vanilla extract
Whipped cream for topping
Optional toppings: cinnamon and pumpkin pie spice
Supplies: small pot, measuring cup/spoons, large mug or mason jar, milk frother, spoon
October 25 at 12pm: Hocus Pocus Punch with Kilene
Ingredients/Supplies:
6 cups apple cider
2 cups cranberry juice
2, 12 oz. cans orange seltzer
¼ cup cherry juice or juice from maraschino cherries
2 oranges, sliced
2 apples, sliced
1/3 cup maraschino cherries
1 cup OLIPOP Sparkling Tonic Ginger Lemon
Supplies: cutting board, knife, punch bowl, measuring cups, spoon