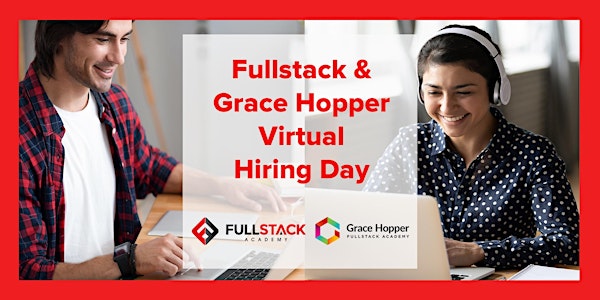 Multiple dates
Virtual NYC Fullstack Academy & Grace Hopper Program Hiring Day
Date and time
December 6, 2018 · 10:45am - June 4, 2020 · 2pm PST
Description
Interview up to 30 trained software engineers all in one day. Participants also gain access to a national database of candidates ready for senior software engineering roles.
We are aware of the threats and implications around COVID-19 and are taking precautions to protect the health of both our students and employer partners. Given this, we are hosting our Hiring Day on June 4th virtually.
Join the ranks of Google, Facebook, Spotify, Etsy, and more by bringing a Fullstack or Grace Hopper graduate onto your team. Also, Fullstack Academy and the Grace Hopper Program's enduring commitment to supporting diversity and inclusion initiatives in tech means you'll be connected to a diverse set of candidates, opening up more opportunities for your team.
The deadline to register is May 28, 2020.

Schedule of Events
1:30pm–2:00pm Virtual Check-In
2:00pm–4:30pm 1-on-1 Interviews
Want to learn more about the event?
Check out this clip about Hiring Day featuring our Director of Career Success, Lesia Harhaj.
Fullstack Academy (FSA) and the Grace Hopper Program (GHP) are top-ranked coding bootcamps renowned for providing immersive, fullstack JavaScript web development training using the NERD stack (Node.js, Express, React, Databases using SQL). GHP is the only bootcamp program in NYC that provides a truly inclusive learning environment by offering deferred tuition for those identifying as women, gender nonconforming, and LGBTQ+.
Our graduates are pros at learning quickly and we pride ourselves on promoting diversity in tech. Recent graduates of FSA and GHP have gone on to fill Software Engineer roles with our Employer Partners, such as Google, Spotify, BlackRock, Simon Data, Andium, Wayfair, and American Express (just to name a few). Our grads have also caught the startup bug and are eager to contribute to the myriad of innovative startups across the city.
FAQs
Who will I virtually meet at Hiring Day?
At the event, you will have a chance to conduct up to 30 introductory interviews with our entire graduating class from FSA and the GHP. The connections you make can spark for you and your team. Additionally, all Hiring Day participants gain access to our national database of over 2000 alums who are ready to enter senior software development roles.
How many tickets should I select if more than one representative from my company is attending?
Please select 1 registration ticket per company. Once registered, our staff will reach out with a confirmation email and send over a Hiring Day Checklist, where you'll confirm the number of attendees, as well as your team's number of desired virtual interview rooms.