You are called not to comfort or success but to obedience. What are you going to do about it? Fusion seeks to answer this question. Join us!
About this event
What is [Virtual] Night for the Nations?
[Virtual] Night for the Nations seeks to inspire and mobilize the church towards the missionary task, particularly young believers. Fusion at Spurgeon College sends young men and women all over the country to put on Night for the Nation events for youth groups, churches, and ministries. Now we are bringing the experience directly to you in a virtual live stream format!
You can expect to learn about and pray for Unreached Unengaged People Groups around the world. However, this is not meant to be a merely informational experience but one which prompts participants towards obedience and initiative. You will walk away with practical next steps in submission to the Great Commission. No matter your hopes, dreams, or vocation the commands of Jesus Christ require believers to live their lives looking toward their heavenly dwelling, not this temporary world.
This year we will be focusing on Sub-Saharan Africa peoples.
Please register by noon on February 26th so live stream instructions can be emailed to you.
If your entire group is participating, please have each person register individually to ensure they receive proper live stream instructions!
Still have questions? Email fusion@mbts.edu
What is Fusion at Spurgeon College?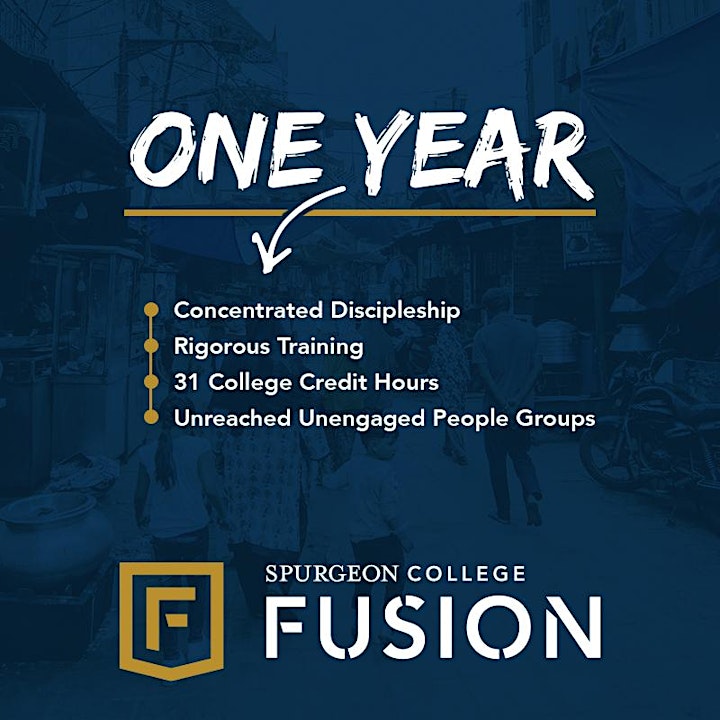 Founded in 2005 at Midwestern College (now Spurgeon College), Fusion began as a directional process whereby young Christians would grow into biblical manhood and womanhood by embracing the call of the gospel. As students grow in their understanding of Jesus and His call, they are asked, "is it worth it?" In the midst of growing challenges they prepare to take the calculated risk of trusting Jesus to draw people to Himself as He is lifted up to the ends of the earth. Fusion students take ownership of the faith by facing great responsibility with high expectation in the context of life-on-life discipleship in small teams called 'cohorts.'
To learn more click HERE and view the video below.
I'm interested in Fusion, how do I learn more?
Please submit a Request Information Form. You will be contacted quickly and our staff will strive to answer all your questions!