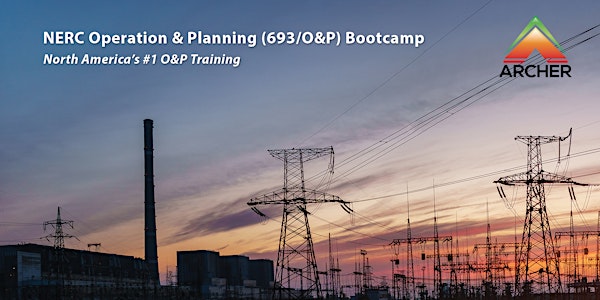 Virtual: NERC Operations & Planning (O&P/693) Standards Bootcamp (24 CPE)
This Virtual Classroom NERC O&P Bootcamp is an educational offering from Archer Energy Solutions.
Refund Policy
Refunds up to 30 days before event
Eventbrite's fee is nonrefundable.
About this event
$500 SAVINGS: EARLY BIRD PRICING UNTIL 08/24/2020 @ 6:00pm MST. Regular Pricing of $1,999 begins on 08/24/2020 at 6:01pm MST. 
Virtual Classroom - Bootcamp Overview
This Virtual Classroom NERC O&P Bootcamp is a new educational offering from Archer Energy Solutions. This course provides essential foundational knowledge of the NERC O&P ecosystem, as well as in-depth information on the most violated and/or challenging O&P standards and requirements.
Archer is obsessed with quality, integrity and value in everything we do and this course is an extension of that commitment. Get the inside story directly from former Regional O&P Auditors, former registered entity compliance officers and former subject matter experts. If it's an O&P standard, we've implemented it and audited it. We can show you how to cross the compliance finish line and maintain it.
Day 1 of the Bootcamp provides foundational knowledge of the O&P standards and a deep dive into the regulatory process, players and pitfalls. Topics include the regulatory agencies as well as the history and legal basis of the standards, their format and relevant terminology. Participants will receive an understanding of common compliance oversight practices employed by the ERO and the Regional Entities. This includes a detailed explanation of the audit process from preparation, to execution, to post-audit enforcement actions. Attendees will obtain an understanding of the Compliance Monitoring and Enforcement Program (CMEP), Inherent Risk Assessments (IRA), Internal Controls Evaluation (ICE), and the audit process as documented in the ERO Auditors Handbook. RSAW and evidence preparation and presentation will also be discussed.
Days 2-3 presents a deeper dive into the most violated and challenging of the O&P standards, covering selected requirements in-depth with discussions on successful compliance approaches.
Standards covered:
PRC-005-6
BAL-002
COM-002
FAC-003
FAC-008
MOD-025 through MOD-027
PER-005
TOP-001
TOP-003
TOP-010
Audience Compliance, regulatory, legal, technical, and engineering staff that will participate in formal O&P audits, mock audits, or internal compliance reviews (possible range from subject matter experts to compliance officers). Others desiring an understanding of oversight processes and methods to ensure compliance to the NERC O&P Standards.
Archer only hires the best in the business. Our training staff are experienced, engaging and entertaining. Your instructors for this course are:
Jim Terpening
James "Jim" Terpening began his career in the electric sector as an Operator, Test Technician, and Instructor at SCE. He spent many years in the Energy Control Center and completed his tenure as Division Superintendent of Operations and Maintenance. After 38 years at SCE, Jim shared his experience and expertise as an instructor for the California ISO training dispatchers on protection systems and for USSI (Guam, Micronesia) instructing maintenance and operations personnel on electrical systems. In 2007, Mr. Terpening became one of the first NERC Operations and Planning Standards (O&P/693) auditors in the nation at the Western Electricity Coordinating Council (WECC) Regional Entity. Scores of NERC O&P audits and 11 years later, Jim left WECC to join Archer Energy Solutions as Principal Instructor, leading Archer's O&P Education Program. Jim graduated from Pepperdine University with a Bachelor of Science in Business Management.
Richard Shiflett
Richard Shiflett, Archer's Operations and Planning Practice Director, is an electrical engineer with more than 15 years of work with electric utilities.  His experience in the regulatory sector includes auditing operational and planning standards for the largest Regional Entity (WECC) as well as conducting Inherent Risk Analyses (IRAs), Internal Controls Evaluations (ICEs), and reviewing and processing self-reports and mitigation plans for WECC as a compliance risk engineer.  In the engineering field, Mr. Shiflett was a senior electrical engineer and compliance manager at the largest generator in North America – Grand Coulee Dam.  Mr. Shiflett retired from the U. S. Navy with experience in nuclear propulsion plants as a nuclear mechanic and various types of intelligence analysis as an intelligence specialist.