Mindful Heart Meditation Circles lead by the amazing Sylvia Abergil! Every Monday, starting November 1st, 2021 to December 20th, 2021 Online
About this event
It's been a while, we are very excited to start having events again at the Centre! What better way to come back with a series of MINDFUL HEART MEDITATION CIRCLES, guided by our lovely Sylvia!
There will be limited space so please register NOW, you don't want to miss out!
You will find yourself immersed in a welcoming, peaceful and full of positive energy space, you can let go and be with yourself and raise your vibration.
Due to increased interest in our Meditation Classes, we have added an Online component for people that are too far away or still want to attend as we maxed out our in person capacity.
Feel free to use your yoga mat, favorite blanket or crystal to accompany you on your meditation journey!
Buy your ticket now, as there is limited space, once you have registered an email will be sent to you with the zoom information and link.
Only $20.00 per session, you can attend as many as you want! Looking forward to seeing you!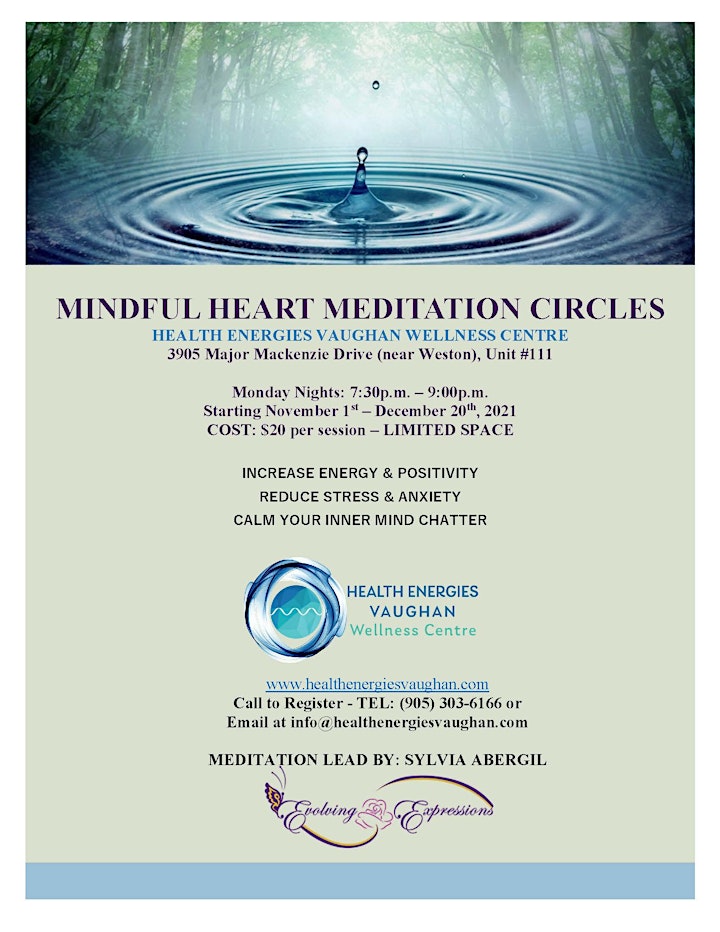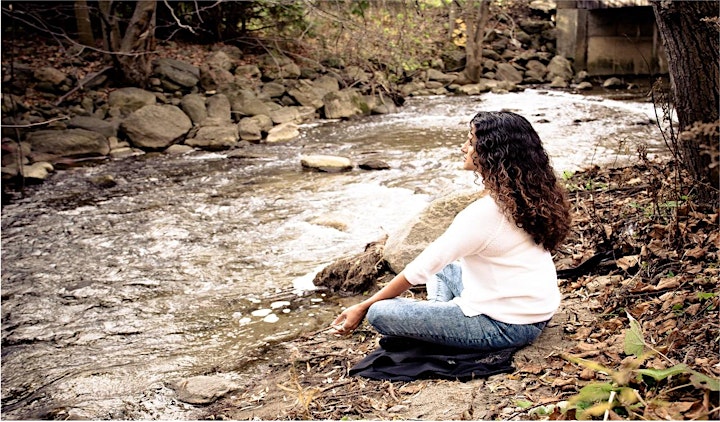 Date and time
Location
Refund policy
Organizer of VIRTUAL MINDFUL HEART MEDITATION CIRCLES
Welcome to Health Energies Vaughan Wellness Centre!
A destination for healing the mind, body and soul! A warm and inviting community of practitioners that are passionate, genuine and caring as we help and support you in your journey towards better health and well-being. We take a holistic approach and work together to provide integrated wellness services such as Registered Holistic Nutrition and Psychotherapy, Body Work and PEMF (Pulse Electro Magnetic Field) Therapy and so much more!
Our Story
The founder of the Centre, Roxane Melançon had a very specific vision in mind.  She put a lot of thoughts behind the experience she wanted the clients to have.  Having had several health issues and suffering from chronic diseases, she's had numerous interactions with the health care system, probably more than she wanted to.   Every time she felt that most places were clinical, depressing and a reminder of how sick she was.   She wanted to develop a space that was welcoming for individuals that are dealing with illness. A haven where it is soothing and comforting. You can feel the positive energy and you don't feel alone.   It was important to Roxane, that you disconnect from your life's hecticness, day to day stress and have a "Me Time" moment in order to take care of yourself.
She had an opportunity to change the way you are typically cared for and give back to her community that she's been part of over 20 years.  She surrounded herself with likeminded health professionals that also wanted to make a difference.