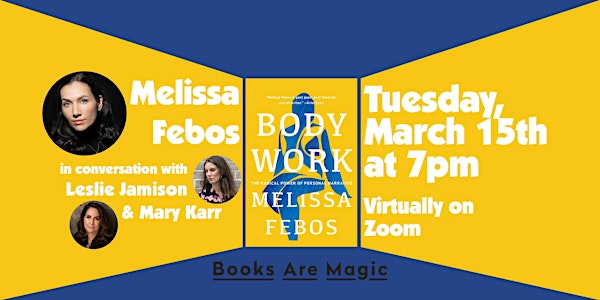 Virtual: Melissa Febos: Body Work w/ Leslie Jamison & Mary Karr
"Crucial…Sharp insights from a passionate practitioner and champion of memoir." —Kirkus Reviews (starred review)
About this event
Community Guidelines:
By registering for this event, you agree to be respectful towards authors and other audience members and to refrain from inappropriate or disruptive behavior and/or harassment of any kind including, but not limited to: hate speech, spam comments, slurs, obscenities, etc. Any attendees who violate these community guidelines will be immediately ejected from this event and barred from attending all future Books Are Magic events.
To request accessibility accommodations, please contact assistant@booksaremagic.net.
Named a Most Anticipated Book by Bustle, Marie Claire, Glamour UK, Autostraddle, NET-A-PORTER, AnOther Magazine, Electric Literature, Lit Hub, and The Millions
Memoir meets craft masterclass in this "daring, honest, psychologically insightful" exploration of how we think and write about intimate experiences—"a must read for anybody shoving a pen across paper or staring into a screen or a past" (Mary Karr)
In this bold and exhilarating mix of memoir and master class, Melissa Febos tackles the emotional, psychological, and physical work of writing intimately while offering an utterly fresh examination of the storyteller's life and the questions which run through it.
How might we go about capturing on the page the relationships that have formed us? How do we write about our bodies, their desires and traumas? What does it mean for an author's way of writing, or living, to be dismissed as "navel-gazing"—or else hailed as "so brave, so raw"? And to whom, in the end, do our most intimate stories belong?
Drawing on her own path from aspiring writer to acclaimed author and writing professor—via addiction and recovery, sex work and academia—Melissa Febos has created a captivating guide to the writing life, and a brilliantly unusual exploration of subjectivity, privacy, and the power of divulgence. Candid and inspiring, Body Work will empower readers and writers alike, offering ideas—and occasional notes of caution—to anyone who has ever hoped to see themselves in a story.
Melissa Febos is the author of the critically acclaimed memoir, Whip Smart, and the essay collections, Abandon Me, which was a LAMBDA Literary Award finalist, and Girlhood. The inaugural winner of the Jeanne Córdova Nonfiction Award from LAMBDA Literary, her work has appeared in publications including The Paris Review, The Sun, The Kenyon Review, Tin House, Granta, The Believer, The New York Times, McSweeney's, The New York Times Book Review, Lenny Letter, Elle, and Vogue. She curated the Mixer Reading and Music Series in Manhattan for ten years and served on the Board of Directors for VIDA: Women in Literary Arts for five. The recipient of an MFA from Sarah Lawrence College, she is an associate professor at the University of Iowa, where she teaches in the Nonfiction Writing Program.
Leslie Jamison is the New York Times bestselling author of two essay collections—The Empathy Exams and Make it Scream, Make it Burn—as well as a critical memoir, The Recovering, and a novel, The Gin Closet. She is a contributing writer for the New York Times Magazine and teaches at Columbia University. She lives in Brooklyn with her daughter.
Mary Karr's bestselling The Art of Memoir followed her three award-winning, bestselling books: The Liars' Club, Cherry, and Lit, which kickstarted the autobiographical revolution. A Guggenheim Fellow in poetry, Karr's FIVE collections include (recently) Tropic of Squalor and Sinners Welcome. Other awards include the Whiting Writer's Award, PEN's Martha Albrand Award, Radcliffe's Bunting Fellowship. She is also a two time finalist for the National Book Critics Circle Award. Her graduation speech, Now Go Out There, lit up the twittersphere. She is the Peck Professor of Literature at Syracuse University, and her next memoir, Just You Wait, deals with aging.