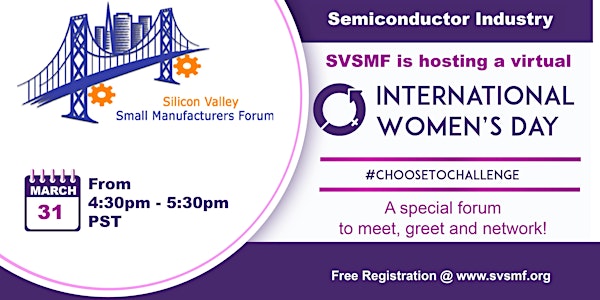 Virtual Meeting: International Women's Day - Celebrate Women's Achievements
Virtual Meeting: Celebrating International Women's Day. #ChooseToChallenge. #SemiconductorManufacturingIndustry #Fabless #Semiconductor
About this event
Virutal Meeting
Semiconductor Manufacturing Industry Focus
"International Women's Day"
- Celebrating Women's Achievements
#ChooseToChallenge.
SVSMF supports all women and supports their chosen path to success. Kudos to all women on their achievements in professional, cultural, economic, political, and social areas.
When: Mar 31, 2021 04:30 PM to 5:30 PM Pacific Time (US and Canada)
Join Zoom Meeting
https://us02web.zoom.us/j/89369313228
Or iPhone one-tap :
US: +16699009128,,89369313228# or +12532158782,,89369313228#
Panel Speakers:
Lisa Orlandi, VP of Worldwide Sales, AIStorm INC
Karen Hicks, Senior Director of Automotive Processing and R&D Quality, NXP Semiconductors
Jessica Campbell, Staff Mixed-Signal Validation Engineer, Ambiq Micro Inc.
Marshnil Dave, Senior Design Engineer, Lion Semiconductor Inc.
Moderator:
Devi Boda, Project Manager, Applied StemCell
Disclaimer:
Silicon Valley Small Manufacturers Forum (SVSMF) is promoting the above event voluntarily for the benefit of its contacts and whoever is interested in general.