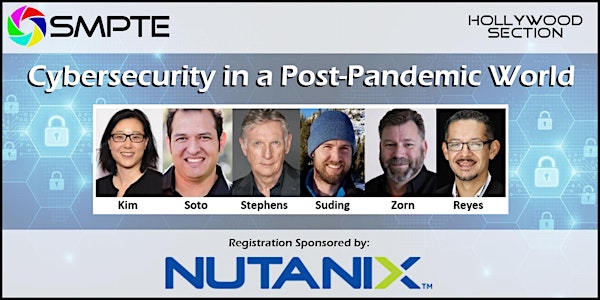 Virtual Meeting: Cybersecurity in a Post-Pandemic World
SMPTE Hollywood will host a panel of security experts to discuss challenges that have arisen due to the expansion of remote working.
About this event
In a virtual meeting scheduled for March 2nd, SMPTE Hollywood will explore the challenges of cybersecurity in the post-pandemic world. A panel of security experts will discuss threats and vulnerabilities that have arisen due to the expansion of remote working and changes in production practices in the wake of covid—and offer advice on how to protect against them.
In the past, media production consisted of discrete phases with specialized contributors following a central workflow. But that is no longer true. Today, collaboration involves versatile contributors engaged in heavily branched pipelines. Security must adapt from fortifying discrete environments against attackers, to support safe collaboration among diverse parties and varying workflows throughout the production process. Join this panel of production and security experts to explore that major shift in thinking.
Panelists:
JoAnne Kim, Head of Production Technology, Amazon Studios, is a production and post-production technologist with experience in facility management and studio operations. Prior to joining Amazon this year, she spent four years at Legendary Entertainment as VP of Post-Production Technology. She has also senior technical positions with 20th Century Fox, Warner Bros. and G4 Media. Her experience encompasses feature film deliverables and mastering, post-production and broadcast engineering, editing and production. She holds a degree in visual communications and art from Mills College.
Rick Soto, Senior Vice President of Global IT and Security at Pixelogic Media, has worked in information technology and systems engineering for more than two decades. He supports technical production operations with global workflow management; infrastructure design, deployment and support; and digital asset management. His background includes senior technical roles with Deluxe Digital Studios, Univision and EMI Music.
Spencer Stephens, Senior Vice President Production Technology and Security, MovieLabs, is engaged in projects on production technology and leads work in the security of production workflows. He was principal author of the MovieLabs "Securing the 2030 Vision" whitepaper and leads the work on the Common Security Architecture for Production (CSAP). CSAP is a zero-trust architecture designed for protecting workflows in the cloud but is also applicable to hybrid cloud infrastructure. Stephens previously operated a consultancy engaged in cybersecurity, production technology and cloud workflows. He served as CTO at Sony Pictures Entertainment, and managed the digital production group at Disney TV Animation and a post-production facility at Warner Bros.
Bret Suding, Digital Imaging Technician, is an independent production technician with experience across film, television and advertising production. He has been involved in projects with high security requirements for Apple, Google and other major brands. His television credits include Mythic Quest for Apple TV+ , Homecoming for Amazon and Our Flag Means Death for HBO.
Marc Zorn, Content Protection & Production Security, Marvel Studios, is a career cybersecurity and media production technologist. His cybersecurity background spans all IT and security domains over the past 40 years. His production experience includes digital cinematography, dailies, scanning and virtual modeling, VFX, color science, editorial, final conform, metadata creation and management, versioning, Digital Cinema Packaging, and secure content delivery. He is a long-time member of SMPTE and IEEE, is deeply involved with HPA, Content Delivery Security Alliance, and Cloud Security Association. Marc has recently been named the chair of the Academy Color Encoding System (ACES) Logo Program Task Force, and an associate member of the American Society of Cinematographers (ASC).
Moderator:
Juan Reyes, Senior Director, Home Entertainment & Technology, Convergent Risks, Is a business and technical executive with more than 20 years of experience in the media and entertainment industry. A Trusted Partner Network (TPN) qualified assessor, he provides TPN security assessments, risk assessments and compliance services for motion picture, streaming and television content vendors around the world. He is an active member in many industry organizations including the Trusted Partner Network, SMPTE, Hollywood Professional Association and Media & Entertainment Services Alliance.
The panel is produced by Debra Kaufman, Juan Reyes and Marc Zorn.
As always, SMPTE Hollywood meetings are free and open to all, even non-members.
Sign up to be notified about future SMPTE Hollywood Events: