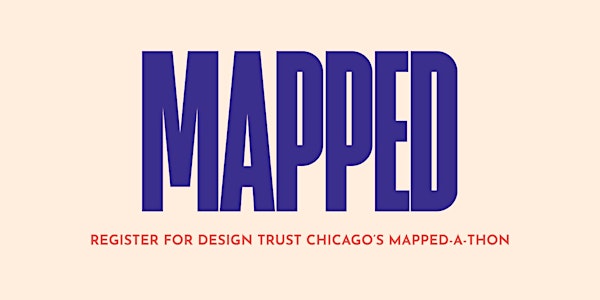 Virtual MAPPED-a-thon
Join Design Trust Chicago for a virtual MAPPED-a-thon 6-8 PM CST on August 17th
About this event
Design Trust Chicago is thrilled to invite all of our friends throughout Chicago to our second virtual MAPPED-a-thon!
MAPPED (Making a People's Pathway to Engage with Design) is a searchable database that includes projects at different scales in different categories: community spaces, placemaking interventions, public spaces, plans, neighborhood design guidelines, and toolkits. MAPPED users can quickly access budgets, partners, funders, technical information, and other project specifics that can help them better predict costs and concerns.
This community resource is a collaborative effort – by Chicagoans and for Chicagoans. Your support allows us to continue building a transparent, organized, and accessible index of Chicago's community spaces that inspires our communities to explore and create spaces in their own neighborhoods
Join us on Wednesday, August 17th, 6-8 PM CST virtually (ZOOM provided with RSVP) and learn how to contribute to this collaborative platform and tool by identifying and inputting project content to build this "design library for projects" around the City.
Get ready to map!
****
Acknowledgements
Graham Foundation for Advanced Studies in the Fine Arts and Chicago Community Trust for funding DTC's work.
Span Studio - design and development consultant for the creation of MAPPED.