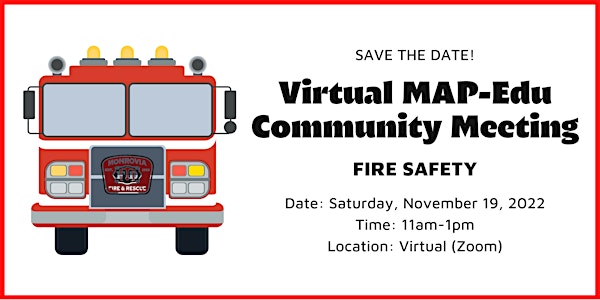 Virtual MAP-edu Meeting | Saturday, November 19
Join our VIRTUAL MAP-edu Community Meeting on Saturday, November 19, 2022 from 11:00AM-1:00PM.
About this event
Event Details:
Presentation by MAP team
Questions will be answered. Take advantage of this meeting and connect with fellow MAP leaders and other Monrovia residents
Speakers:
MAP Team
City of Monrovia Fire Team
Suzanne Dobson - Emergency Preparedness Coordinator
Topics Include:
New Fire Chief Introduction
Fire Safety Tips
CERT/BERT Program
RSVP for the virtual quarterly MAP-edu community meeting TODAY!
If you have any questions prior to the meeting, please email the MAP team at MAP@ci.monrovia.ca.us.
About Monrovia Area Partnership (MAP):
The Monrovia Area Partnership, also known as MAP, is a community-based program run out of the Community Development Department, Neighborhood and Business Services Division at the City of Monrovia since 2006.
MAP has evolved over the years but has remained and continues to stand out as a program that provides great education, tools, resources, information, and motivation to get involved in the community. Many who have attended our programs are now actively involved in the community - volunteering, serving on various boards and commissions, in contact with City Officials, and serving as a leader in their neighborhoods.