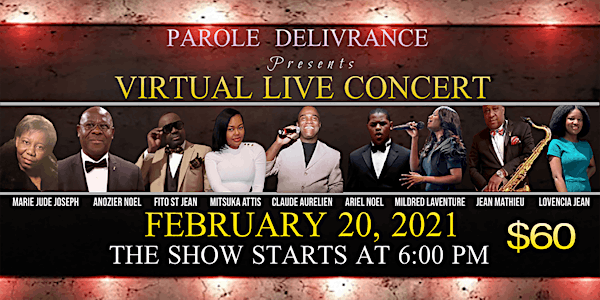 VIRTUAL LIVE CONCERT with Claude Aurelien & Co by Parole Delivrance
This Virtual Concert via Zoom is a way to help Parole Delivrance preaching the Gospel of Jesus through the Radio, Podcast, YouTube.
Refund Policy
Contact the organizer to request a refund.
About this event
At the end of this tragic year 2020 and the beginning of 2021, it is the perfect time to pause, to reflect. If we are alive today, we must take a moment to thank God and praise Him. We also should continue to sustain the preaching of the Gospel. That is what this Virtual Concert is all about!
For nine years, Parole Delivrance Ministries has been ministering to God's children. Each weekday at 6:00 AM, thousands of people are on their devices to listen to the Word of God and pray together, even under COVID-19. We also have a Podcast available. And now, each week a new video is uploaded on our YouTube channel.
By God's grace, many souls have been baptized though this ministry. This Fundraising concert will help the Ministry continue to spread the Gospel every day, and save souls for the Kingdom.
Enjoy the moment! Let's praise the Lord! Claude Aurelien and his Band are the official hosts of this concert. Many other special singers and artists will be there. A dedicated team of professionals will be on site to stream the program. It's a LIVE event that you will be able to appreciate in the comfort of your home.
After organizing three Annual Banquets in the past, this is our first Virtual Concert. But there will be no difference, Jesus will always be The Invisible Guest!
Thank you for your support.
Blessings!
Odny Ulysse, Director of Parole Delivrance Ministries
Johanne Rhuma, Secretarire
Marie Joseph Bien-Aime, Treasurer
Walna Fleurant, Assitant-Treasurer
R. Jean-Marie Charles, Host