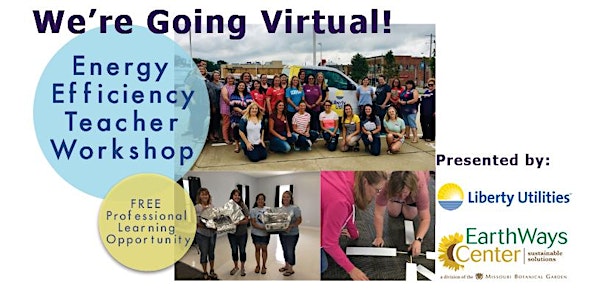 Virtual Liberty Energy Efficiency Workshop
This summer we're going virtual! Join us to explore the science behind energy and sustainability through hands-on activities and lessons.
About this event
Join us in this interactive, virtual workshop to learn all about energy. Explore the science behind energy through hands-on, interactive activities and classroom lessons using common household items. The materials are designed to align with Missouri Learning Standards. Build understanding and knowledge of the role that energy has in our daily lives. Explore connections between energy and sustainability, and how you can use energy to teach about human impact on the environment.
WORKSHOP DATES:
June 24-25; 9:00-11:30 am daily
July 15-16; 9:00-11:30 am daily
August 11-12; 9:00-11:30 am daily
Educators must attend both days to qualify for stipend. There will be one project educators between day 1 and day 2.
WORKSHOP TOPICS WILL INCLUDE:
Background information about energy topics including forms and sources
Discussion of energy efficiency and conservation
Connections between energy and electricity
Renewable energy sources and solutions
PARTICIPANTS WILL RECEIVE:
Energy science toolkit to be mailed to educators at the end of the summer.
Digital copies of all lessons and activities
Stipend*
Must live or work within a Liberty Utilities Service Territory to qualify for stipend.
QUESTIONS?
Contact Katherine Golden at Katherine.golden@mobot.org or 314-577-0207
FAQs
Is this workshop going to be one big lecture? Absolutely not! We've come up with several activities to get participants moving and interacting with each other and their environment. We'll showcase some creative ways you can engage with students either in the classroom or virtually with energy lessons.
Will I need anything to participate? Our activities are designed to be flexible and if supplies are needed they will be supplies found in most homes. We will send out a supply list before the workshop for you to gather materials. There will be no required supplies so if you don't have something - don't worry you can still participate!
Who should attend? Educators from formal or informal setting with an interest in learning more about teaching energy topics including efficiency, renewable energy sources and sustainability. Activities covered throughout the day are aligned to support meeting state standards and designed to be scaled to a variety of grade levels.
I attended last year, should I attend again? YES! We would love to have you back - you can share your experiences teaching about energy with the lessons, help others learn more and more. We will also be introducing new lessons and discussion topics to help you continue to build your skills as an energy efficiency educator.
How do I know if I qualify for a stipend? You can check your or the school's utility bill or visit Liberty Utilities website to locate the community you live or work in. www.libertyutilities.com