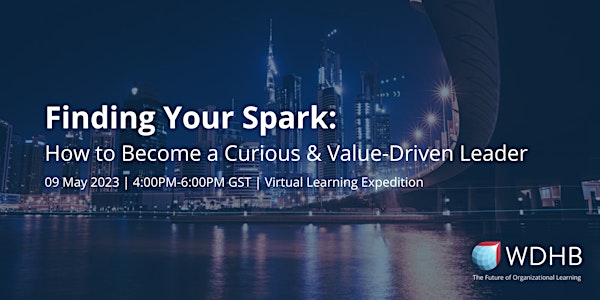 Virtual Learning Expedition: 09 May 2023 (Middle East & Africa)
Welcome to Finding Your Spark, a Virtual Learning Expedition designed exclusively for our clients in the Middle East and Africa Region!
Date and time
Tuesday, May 9 · 5 - 7am PDT
About this event
Get your organization future-ready by diving into the dynamic and immersive world of Experiential Learning. Curated exclusively for our clients in the Middle East and Africa Region, this free-of-charge Virtual Learning Expedition offers the unique opportunity to experience WDHB's award-winning approach to leadership development. During this two-hour event, you'll learn from and engage with the trailblazers and thought leaders of today and tomorrow. Sign up today to unlock your organization's full potential.
For more information, please contact Marina Gauss.
Head of Client Solutions Middle East & Africa
+971 58 5038 650 | mgauss@wdhb.com
Based in Dubai, UAE
About the Organizer
WDHB is a boutique learning and development company dedicated to providing innovative, forward-focused research and immersive, high-impact learning programs. For over 30 years, WDHB has been at the forefront of experiential learning, offering dynamic and unconventional learning journeys and advisory services to current and future leaders as innovators and change agents within their organizations.
In our vision we see the world as our classroom full of infinite and diverse moments to grow through the power of shared stories and experiences. Immersion and collective intelligence are core components of WDHB's approach to designing and delivering its Strategic Discovery, Leadership Development and L&D Advisory offerings, such as its signature Learning Expeditions and Leadership Experiences. WDHB's award-winning customized programs, unparalleled access to iconic locations, and exceptional ecosystem of subject matter experts contribute to its 95% customer satisfaction rating. With locations in the Americas, Europe, MEA and APAC, WDHB is positioned to serve clients across the globe.
More: http://wdhb.com/
Agenda
1st Session | Why Traditional Leadership Trainings Fail Their Desired Outcome
Manish Pant (Schneider Electric)
---
Gain a competitive edge by learning what it takes to drive curiosity and spur results with tangible business outcomes. Speaker: Manish Pant, Executive Vice President of International Operations at Sc...

2nd Session | Set the Stage for Change: Create Buy-In at Every Level
---
Go beyond vision statements and buzzwords, and learn to define your values and create emotional appeal that resonates. Speaker: Norm Knight, Chief Flight Director Office at NASA