~Virtual~ Keeping It Reel "Fifty Shades of Grey" Sat 10/16th 6-9PM PST
~Virtual~ Keeping It Reel "Fifty Shades of Grey" Sat 10/16th 6-9PM PST
About this event
~Virtual~ Keeping It Reel "Fifty Shades of Grey" Sat 10/16th 6-9PM PST
---------------------------
[Eventbrite Link][KeepingItReelOctober.Eventbrite.com]
[Fetlife Link][https://fetlife.com/events/1033173]
---------------------------
Welcome to
Keeping It Reel with House Of Algos!
Here we watch movies and shows with BDSM and sexual themes and discuss what the movie/show got right and what it could do better when comes to our Community.
Everyone is welcome to join us. ` This event will be shown via Zoom.
---------------------------
*Cost*
This is a donation-based event. That means you can donate whatever you feel moved to give. If you want to give a dollar, give a dollar. If you want to give more, that is entirely up to you.
---------------------------
*How will this work*
-Zoom inks will be sent out to the email your registered with 15-30 minutes before the event starts
-Make sure to download Zoom in advance
-We will do a shared screen and show "Fifty Shades of Grey"
-There will be a discussion after the movie
-Attendees are invited to type questions and comments in the chat
---------------------------
*Why do you pick the movies you do for Keeping It Reel?*
The purpose of this event is to analyze movies and shows that have sexual and BDSM themes. Some shows and movies you will love, and some you will wish to erase off the planet. We are going to dissect these shows and movies and discuss what we liked and what we hoped had gone better. We will have civil discussions and will be kind to one another during the discussion portion.
---------------------------
*Rules*
-Be kind to one another
-No kink shaming
-Please do not talk during the viewing
-Communicate via the chat
-Do not be creepy in the chat
-I will boot you if you are rude and a disturbance to the group.
---------------------------
Links will be sent 15-30 minutes before the event start.
Please sign up with an email address where you can receive the link.
For more information: HouseOfAlgos@gmail.com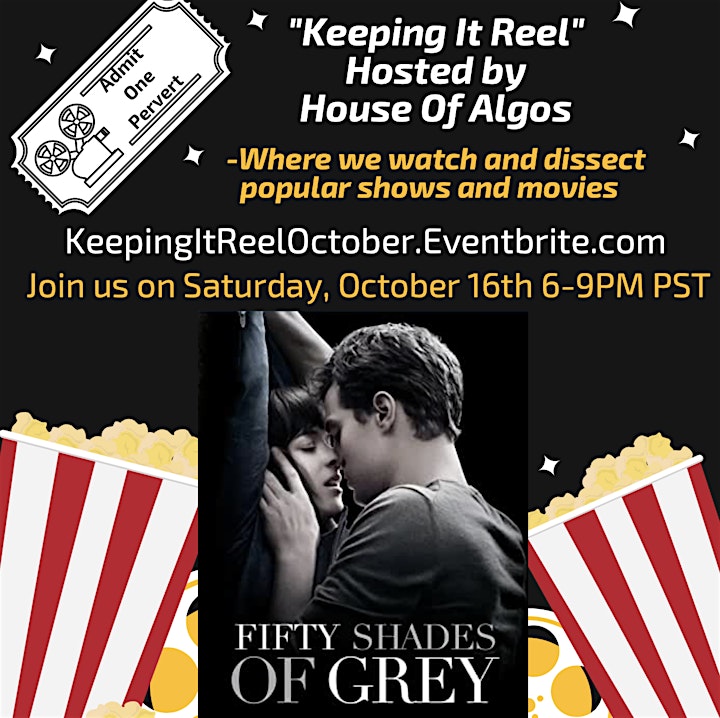 Organizer of ~Virtual~ Keeping It Reel "Fifty Shades of Grey" Sat 10/16th 6-9PM PST