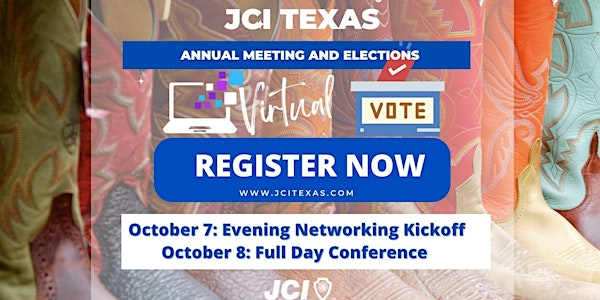 Virtual JCI Texas Annual Meeting & Elections 2022
Join us for the JCI Texas Annual Meeting & Elections! Check out the incredible Professional Development and Laughter Yoga!
About this event
Join us for a Virtual JCI Texas Convention from your home to connect and featuring curated professional leadership tracks, networking, games, and raffle prizes! Texas Jaycee convention is the time to make new friends & connect with old friends!
Friday night will kick things off our virtual social & games. Saturday will determine our 2023 JCI Texas Executive Board of Directors. We also have a full Saturday program of individual development and more to strengthen our fellow Texas chapters! The 2nd Trimester Awards featuring inspiring stories that will keep you motivated.
Friday, October 7th
8:00 PM - 10:00 PM Trivia Night
Saturday, October 8th
9:30 AM - 10:00 AM Good Morning Texas!
10:00 - 11:00 AM General Assembly & 2023 Elections
11:00 AM - 12:00 PM Communications & Messaging (Trainer: JCI USA NVP Brent Buswell)
12:00 PM - 1:00 PM LUNCH
1:00 - 2:00 PM Membership & Recruitment (Trainer: JCI USA Membership Coach Nick Mayrand)
2:00 - 3:00 PM Laughter Yoga (Trainer: Ruchika Gupta)
3:00 - 3:30 BREAK
3:30 - 4:00 PM Texas Project Showcase
4:00 PM - 4:30 PM 2nd Trimester Awards & Raffle Drawing
Texas Chapters - Email president@txjc.org for membership based promotion codes!