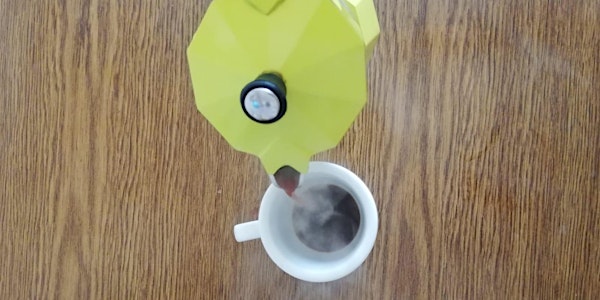 Virtual Italian Barista and Coffee Workshop
Curious to deep dive in the world of coffee with an expert barista in Florence? Sign up for this unique virtual master class!
Refund Policy
Contact the organizer to request a refund.
About this event
Italy doesn't grown any coffee yet create a demand of over 14 billion espressos consumed annually! How did coffee culture come to be so ritualistic in Italian society? What are these beans stories? Where did they come from and where did they spread worldwide? And most importantly- how can we make the best cup at home? We'll answer these questions, travel the world of coffee and more on this 1 hour espresso crash course!
A taste of what we'll cover:
-History and origins of coffee
-Learn the differences between arabica and robusta, with sensory exercises
-Travel the world of bean varieties through Africa, Latin America and emerging coffee-growing countries around Asia
-Understand how Italian's coffee, from the espresso machine to the moka (plus tips) as well as traditions such as il caffè sospeso
-Perfect your at home skills from the moka, pour over (i.e. v60 vs Chemex/Kalita) and immersion (French press vs Aeropress) and their respective ideal grinds
About your host: Jessica Sartiani will be your online coffee educator with a seriously impressive background in coffee. Jessica's coffee path includes having worked 4 years as head barista and trainer at Ditta Artigianale (Florence's 1st 3rd wave coffee enterprise) and holds various certifications (coffee science, latte art, barista, brewing, etc) and regularly trains roasters and consults start-ups and coffee shop entrepreneurs in Florence and around the world. Jessica also participates in brewers cup competitions.
HOW IT WORKS: This online session is scheduled on MONTHLY 1st Tuesday of every month 11am PT/2pm ET (8pm Italy time) If the time works in your end of the world- you're invited!
What you'll need (but you can totally participate without in case you don't have):
For the ingredients and tools- A moka coffee maker (ideally an average sized moka) OR a french press
Coffee needed for Moka: Ideally craft quality moka-ground espresso beans (ask coffee shop staff to grind for moka- should be finely ground) from an independent roaster, single origin and either direct trade or farm direct. If you can't access this, you can get the following at any specialty store or online: Illy (1st choice) or Lavazza (2nd) vacuum packed bags ground especially for Moka (found at specialty food stores, whole foods market or Italian delis) OR finely ground beans of choice if they have a coffee grinder at home
Coffee needed for French press: Coarsely ground coffee of choice.
Tickets must be purchased in advance and is open to join-in participants of up to 12. This online cocktail webinar will be conducted via Zoom. Participation is $30 per person. Private flat rate buy-outs depend on participant #.
If you'd like to arrange this coffee workshop for a group of friends, colleagues or family who can participate from their own computers remotely, please contact us to arrange a PRIVATE event which we can schedule at your convenience, please note a minimum flat rate buy-out is required. Send us an e-mail HERE for a quote!