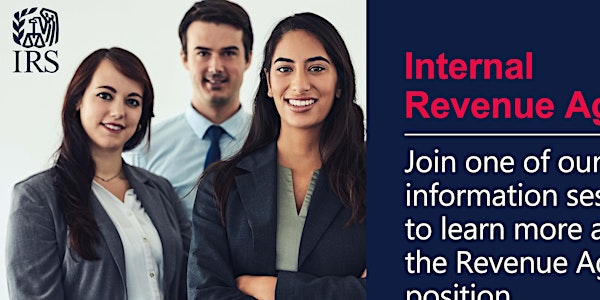 Virtual Information Session about Revenue Agent positions
Virtual Information Session about Revenue Agent positions
About this event
We are hosting a virtual information session about our Revenue Agent positions to prepare interested job seekers for future Revenue Agent announcements. You will hear from managers in the Field Exam Division of SB/SE about our Revenue Agent positions. This session will provide you a better understanding on what will be expected from you day-to-day. You will also receive information on the qualifications for this position.
Whether you are a student exploring future career options, a recent graduate ready to enter the workforce, or are simply looking for a career change that offers work life balance and great benefits, we have opportunities that may be just right for you!
This session begins at: 7:00 PM Eastern Time,
Click the Register button to Register today!
For additional information about our open positions or to request any reasonable accommodations, send an email to SBSE.Recruitment@irs.gov, along with your name and inquiry and we will be happy to answer your questions. Please allow at least 2 weeks for us to arrange for your accommodations.