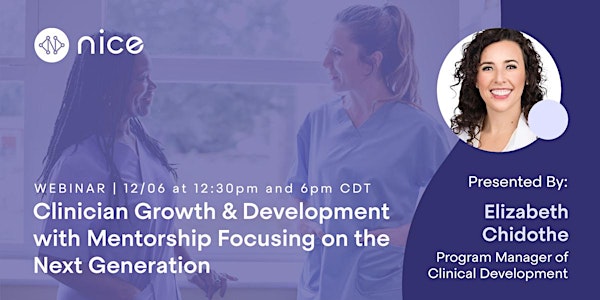 Virtual Info Session: Mentoring for Success at Nice
Learn how Nice Healthcare provides clinician growth and development opportunities through mentor-mentee relationships.
About this event
Mentorship consists of a reciprocal relationship with open communication between two professionals; guidance and support in role development; and planned mentoring activities building confidence.
Tune in to this COMPLIMENTARY discussion with the Nice Healthcare team and learn about the benefits of receiving and providing mentorship. Positive results can be seen for all parties whether early on in one's career or at later stages. As healthcare professionals growth is constant. Nice provides clinician growth and development through mentoring the next generation of clinicians.
Clinicians are life-long learners and instrumental in the development of future generations. Discover how Nice creates trusting learning environments by encouraging strong connections between mentors and mentees. Nice's mentor-mentee relationships are designed to boost engagement, enhance clinician autonomy, and celebrate professional growth.
Join Nice Healthcare's Program Manager of Clinical Development, Elizabeth Chidothe, on Tuesday, December 6, at 12:30 pm CDT OR 6:00 pm CDT.
During this webinar, Elizabeth will discuss:
Nice's Unique Approach
Mentoring: why do we mentor?
Nice's mentorship opportunities
Want more information before the webinar?
Visit 👉🏼 Nice Healthcare's website to learn more about the organization and job opportunities in your area.
Nice Healthcare is an integrated primary care clinic taking the exam room directly to patients anywhere in the community, breaking down barriers to accessing care.
98% of employees at Nice Healthcare say it is a Great Place to Work 👈🏼 compared to 57% of employees at a typical U.S.-based company.
Click the Register button to reserve your complimentary ticket now!