Join us for a virtual Ideas Exchange with inaugural poet Amanda Gorman in conversation with Tracy K. Smith, columnist Erika D. Smith hosts.
About this event
This virtual Ideas Exchange event with inaugural poet Amanda Gorman in conversation with Pulitzer Prize-winning author Tracy K. Smith, hosted by L.A. Times columnist Erika D. Smith starts at 5:30 PM PST on June 23 and will be hosted by a private Webinar link.
On January 20, 2021, Amanda Gorman became the sixth and youngest poet to deliver a poetry reading at a presidential inauguration joining such remarkable poets as Maya Angelou, Elizabeth Alexander, Richard Blanco, and Robert Frost. Taking the stage after the 46th president of the United States, Joe Biden, Gorman captivated the nation and brought hope to viewers around the globe with her call for unity and healing. Her poem "The Hill We Climb: An Inaugural Poem for the Country" can now be cherished in a special gift edition, perfect for any reader looking for some inspiration.
Amanda will be in conversation with the Pulitzer Prize-winning author and former U.S. Poet Laureate, Tracy K. Smith. They will discuss her uplifting poem and the power of language to reinvigorate and reimagine the promise of America. LA Times columnist Erika D. Smith will moderate the conversation.
Thank you to our event partner WriteGirl, a community of women writers that promotes creativity and self-expression to empower girls. Amanda says: "WriteGirl has been pivotal in my life. It's been thanks to their support that I've been able to chase my dreams as a writer."
Date: June 23, 2021
Time: 5:30pm PT
Where: Private zoom webinar, one (1) email per registration
Booksellers:
Eso Won Books
Amanda Gorman is the youngest inaugural poet in U.S. history, as well as an award-winning writer and cum laude graduate of Harvard University, where she studied Sociology. She has written for the New York Times and has three books forthcoming with Penguin Random House.
Born and raised in Los Angeles, she began writing at only a few years of age. Now her words have won her invitations to the Obama White House and to perform for Lin-Manuel Miranda, Al Gore, Secretary Hillary Clinton, Malala Yousafzai, and others. Amanda has performed multiple commissioned poems for CBS This Morning and she has spoken at events and venues across the country, including the Library of Congress and Lincoln Center. She has received a Genius Grant from OZY Media, as well as recognition from Scholastic Inc., YoungArts, the Glamour magazine College Women of the Year Awards, and the Webby Awards. She has written for the New York Times newsletter The Edit and penned the manifesto for Nike's 2020 Black History Month campaign. In 2017, Amanda Gorman was appointed the first-ever National Youth Poet Laureate by Urban Word – a program that supports Youth Poets Laureate in more than 60 cities, regions and states nationally. She is the recipient of the Poets & Writers Barnes & Noble Writers for Writers Award, and is the youngest board member of 826 National, the largest youth writing network in the United States.
Tracy K. Smith is the author of four books of poetry, including Life on Mars, winner of the Pulitzer Prize. Such Color: New and Selected Poems will be published in October. She is also the editor of an anthology, American Journal: Fifty Poems for Our Time, and cotranslator (with Changtai Bi) of My Name Will Grow Wide Like a Tree: Selected Poems by Yi Lei. Smith's memoir, Ordinary Light, was named a finalist for the National Book Award. From 2017 to 2019, Smith served two terms as the twenty-second Poet Laureate of the United States. She is currently a Chancellor of the Academy of American Poets.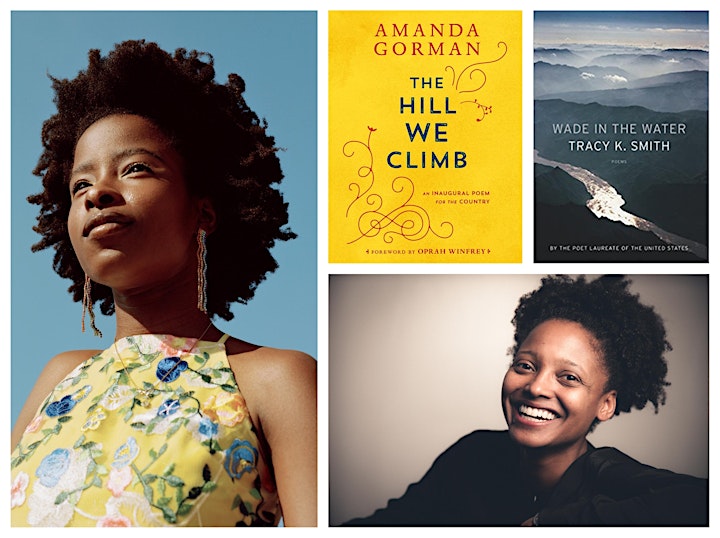 Organizer of Virtual Ideas Exchange with Inaugural Poet Amanda Gorman w/Tracy K. Smith