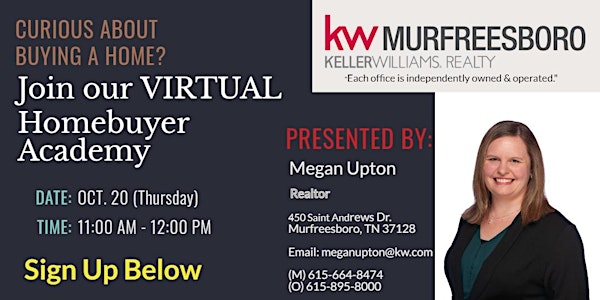 Virtual Homebuyer Academy
Are you thinking about buying a home in the future? If the answer is YES, then this is the workshop for you!
About this event
Hi,
My name is Megan Upton. I am a Realtor serving Middle Tennessee. I work with buyers, sellers, and renters. My virtual homebuyer academy is great for anyone that might be interested in purchasing a home in the future. It is not just for first time homebuyers! The real estate market is always changing. If you have purchased previously, it is still a good idea to brush up on the process. The class will be completely virtual over zoom. You are welcome to ask questions during the class, or just listen. It is a very casual atmosphere. I want everyone to be comfortable to learn together. Following the workshop, you are welcome to schedule a 1x1 consultation with me if you have additional questions. Sign up today! I look forward to seeing you there!