Explore healthy lifestyle options to complement the medical care that you, or your Care Partner, receive with a holistic approach.
About this event
Individuals with MS, their family members, care partners, and friends join us to increase awareness and gain a broader understanding about an integrative and whole systems approach to wellness. Learn from national MS experts to widen your perspective and enhance your ability to maintain an optimal state of health.
Presentations and discussion topics will include a range of best practices within traditional medicine in addition to broader based options for health promotion and illness prevention including:
Coping with MS symptoms such as fatigue and pain
Resilience and inspirational stories from MS patients
Self-care practices
Exercise and physical therapy for MS and exciting new research
Complementary and alternatives to medical care
Mind body practices such as yoga and meditation
NMOSD
This event is free of charge, although a $25 donation is appreciated. Donations are tax deductible. Yoga Moves MS is a non profit 501(c )(3) that provides adaptive yoga, mindfulness and wellness education for individuals with MS and their care partners. Those who make a $75 donation or more will receive the e-version Adaptive Yoga Cards for Kindle ($19.99 value).
Program
The schedule for speakers will be sent to registrants and registrants may attend any one or all fantastic speakers on the webinar. Video recordings for each speaker will be available to registrants after the event.
Rany Aburashed, DO
Chief of Neurology and the Director of the Comprehensive MS Center, Memorial Healthcare Institute for Neuroscience
Martin Belkin, DO
Medical Director, MS Center at MIND
Brandon Beaber, MD
MS Specialist, author of Resilience in the Face of Multiple Sclerosis
Mindy Eisenberg, MHSA, CIAYT, ERYT500
Founder and Director, Yoga Moves MS
Gretchen Hawley, PT, DPT, MSCS
The MSing Link-Physical Therapy for MS
Barry Singer, MD
Director, The MS Center for Innovations in Care, Missouri Baptist Medical Center
Evan Smith, PhD
Rehabilitation Psychologist, Division of Rehabilitation Psychology & Neuropsychology at University of Michigan Medicine
James M. Voci, MD, Chair, Yoga Moves MS
Michigan Neurology Associates
Rosemary Walch, DO
MS Specialist, MS Center at MIND
Mitzi Joi Williams, MD
CEO of the Joi Life Wellness Group Multiple Sclerosis Center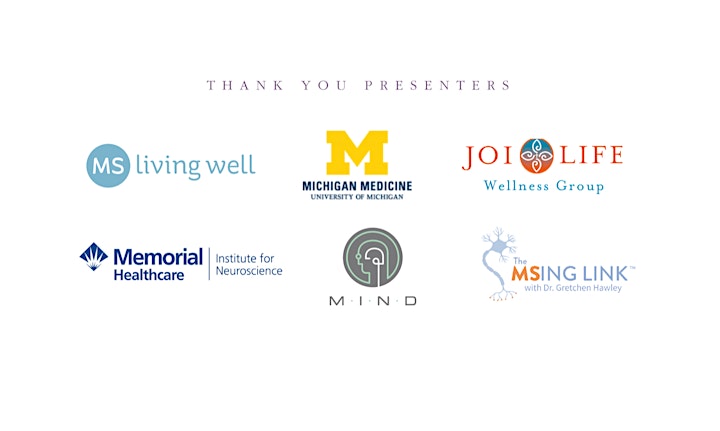 Presented By