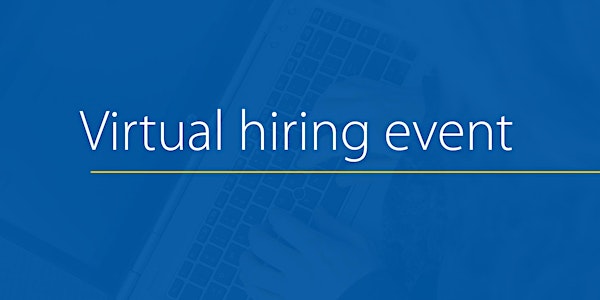 Virtual Hiring Event - October 5
Everyone is welcome to attend this virtual hiring event which features jobs in a variety of industries in the Minneapolis/St. Paul, MN.
About this event
Wednesday, October 5, 2022
1:00 p.m. - 2:00 p.m.
This event will feature jobs in the Minneapolis/St. Paul, Minnesota metro area.
It's easy to join with a smart phone, tablet or computer.
How to attend:
• Register above.
• Next, visit elevatefutures.com and create an INDIVIDUAL profile.
• On the day of the event, simply log into the site using Microsoft Edge or Chrome, and click "click to visit the booths." Check in at the information desk for helpful tips or if you have questions about the event.
The employer information will be available on Elevate Futures from
8 a.m. to 9 p.m., if you cannot attend the live event.
Participating employers:
• AbleLight - Direct Support Professionals/Leads
• Anoka-Hennepin School District – See website for openings
• Arrowhead Engineered Products - Warehouse Associates, Forklift Operators, Warehouse Team Lead
• Bankers Life - Insurance Sales/Financial Representative
• Blue Plate Restaurant Company - Line Cooks, Hosts, Dishwashers
• Life By Design - Direct Support Professionals. Program Coordinators
• LifeSource Organ, Eye, and Tissue Donation – Healthcare, RNs, Payroll/Benefits Administrator
• LifeWorks Services - Career Placement Counselor, Service Facilitator, Service Specialist
• LSG SkyChefs – Maintenance, Supervisors, Drivers/Helpers
• Lube-Tech - Assembly, Production, Field Service Tech, Over-The-Road Driver, Customer Delivery Representative
• Mains'l Services - Direct Support Professionals/Leads/Floaters, Program Manager
• Mediacom Communications - Broadband Installer Techs, Front Counter Customer Service
• MN Dept. of Transportation – Roadway Maintenance, Snow/Ice Worker, Auditor, Engineers, HR Supervisor, more
• Minnesota Veterans Home – CNAs, RNs, Housekeeping, Painter, Stationary Engineer
• MNGI Digestive Health – Clinic Assistants, RNs, Patient Coordinator, Schedulers, Endoscopy Technicians
• MSS - Direct Support Professionals, Service Coordinators
• Omni Viking Lakes Hotel - Housekeeping, Engineers, Cafeteria Attendant, Driver, Stewards, Servers, Bartender, Barista, Cooks
• Right at Home – Caregivers for Seniors, Compassionate Caregivers
• Saint Therese - NA, RN, LPN, Home Health Aide, Cook, Dietary Aide
• SAS Retail Services - Team Lead/Merchandiser, Full Store Reset, Full Store Reset with travel
• SilverCrest Properties - Nursing, Clinical Director, Resident Med Tech, Dining Staff, Maintenance, Housekeeping, Bus Driver, More
• TEKsystems - Entry-level Call Center, Mid-Senior Level Desktop IT
• True Friends - Direct Support Professionals, Cook, Retreat Hosts, Housekeepers, Team Building Facilitators, more
Questions?
• Lisa Cain, 612-596-1990, lisa.cain2@hennepin.us
For more information go to Hennepin.us/employmentservices and CareerForceMN.com
This event is hosted by Hennepin County and promoted by CareerForce.
Hennepin County also offers free online training workshops. For more information, please contact Anietie.Ekpo-Umoeka@hennepin.us.