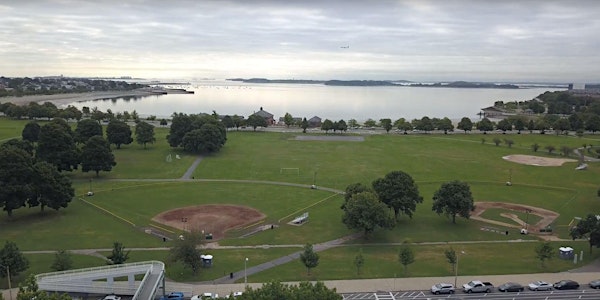 Virtual Harbor Use Public Forum: Resilient Moakley Park Planning Process
Join us for this month's Harbor Use Public Forum with the Boston Parks Department, Stoss and Weston & Sampson.
About this event

Boston Harbor Now holds monthly Harbor Use Public Forums for interested stakeholders to learn about and provide feedback to waterfront developers and public agency planners on projects affecting Boston Harbor's waterfront and islands.
Join us in May for a conversation with the Boston Parks and Recreation Department (BPRD) and their team from Stoss to get a review of the March 2019 plan, find out what they've learned from further engineering studies and public comments, and hear where the design is headed next. The presentation will lay out the vision created last year, the feedback the team has received to date, and explain important new design criteria for building a welcoming and resilient park for the future. There will be opportunities to provide feedback and ask questions.
The virtual presentation is free, open to the public and available via Zoom and by phone. A recorded version will be available on the Moakley Park website. All participants must register in advance. A link will be sent directly to attendees the evening before with specific information on how to join each platform. (Please note, attendees will not be visible in the recording.)
To learn more about the Moakley Park planning process, visit https://www.boston.gov/parks/moakley-park.
For more information, including opportunities to present your waterfront project or proposal at one of these meetings, please contact Alice Brown, planning director, at abrown@bostonharbornow.org.