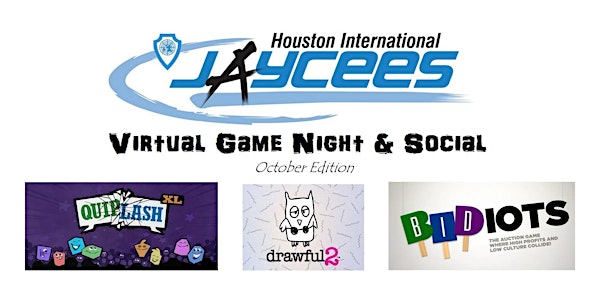 Virtual Game Night & Social - October Edition!
Let's play some games and enjoy a few hours of social time! Hear about what the Jaycees' activities in the community!
By Houston International Jaycees
When and where
Date and time
Tuesday, October 6, 2020 · 5 - 7pm PDT
About this event
Join us again for some Jackbox TV games of Quiplash XL, Drawful 2, and more after some quick updates on COVID-19 Projects run by the Houston International Jaycees. If you like Apples to Apples, Cards Against Humanity, or Pictionary, you will like this. If you haven't played, Jaycee member Richard Arriaga will be setting up a game of wits that will pit your answers to prompts against your teammates and let you vote on whose is most popular. Trust us- it's hilarious and you can be as creative as you want to be, but no promises you will win ;) .
https://en.wikipedia.org/wiki/Jackbox_Games#Quiplash_(2015)
https://www.jackboxgames.com/quiplash-xl/
Drawful 2 works by asking for a drawing that you try to get others to guess or supply fake answers to steal the correct guess from the player who drew the picture.
https://en.wikipedia.org/wiki/Jackbox_Games#Drawful_2_(2016)
https://www.jackboxgames.com/drawful-two/
Bidiots has you try to make as much money as you can by selling "art" you draw, buying pictures and making money, or making people buy the "art".
https://en.wikipedia.org/wiki/The_Jackbox_Party_Pack#The_Jackbox_Party_Pack_2_(2015)
https://www.jackboxgames.com/bidiots/
All you need to play is your phone with a web browser and a computer, tablet, or other device that can access Zoom.
If are unsure how to play, sit back in the audience online. We will post the Zoom link just before the meeting time. You will not need to buy any software or apps.
Let the games begin!
About the organizer
The Houston International Jaycees (https://jcihoustonintl.org/) aspire to develop individual members and prepare them to undertake social responsibility by offering an array of dynamic programs. HIJ's philosophy is not only about gathering knowledge and acquiring skills, but also about using learned knowledge and skills to enhance the human character and to make for a more dynamic environment. HIJ has consisted of young professionals from various professions such as banking, engineering, attorneys, investment specialists, education, information technology, health care, and many more. HIJ is a well-recognized organization within the Houston Community delivering year round programs and services that benefit Houston communities.

We are young active citizens all over the world, aged 18-40. Living, communicating, taking action and creating impact in our communities. We develop leadership skills through service to humanity. We provide our members with training opportunities and leadership opportunities so that they can create positive change. Our members learn how to run projects, create & manage budgets, network, work with diverse groups of people and many more skills!

Are you a young active citizen in your 20's and 30's? Do you want to make a difference in your community? Join us on this journey of local action for global impact. Here are the many ways we make an impact:

Community Improvement
Individual Growth
Group Involvement
International Connections

Join our Facebook group (https://www.facebook.com/groups/HoustonIntlJaycees/) and follow us on Instagram (https://www.instagram.com/JCIHoustonIntl/) and Twitter (https://twitter.com/JCIHoustonIntl)!
Apply to be a member - https://tinyurl.com/ApplyHIJC