Virtual Game Night & Community Fundraiser for Meghadeepa
Sales Have Ended
Ticket sales have ended
Sales have ended for this event, but gifts are still appreciated. To donate to Meghadeepa's GoFundMe, visit bit.ly/M_Tuition , or send funds via Venmo or PayPal @meghadeepa
Sales Have Ended
Ticket sales have ended
Sales have ended for this event, but gifts are still appreciated. To donate to Meghadeepa's GoFundMe, visit bit.ly/M_Tuition , or send funds via Venmo or PayPal @meghadeepa
Please join us for a night of games, birds, special guests, and gifts to support our friend and community leader Meghadeepa Maity!
About this event
[NOTE: Solo and pair players: Select "I want to get tickets as an individual" ONLY if you are not planning to also play on a team!]
Please join us for a Virtual Game Night and Community Fundraiser to celebrate and support our friend birder-activist Meghadeepa Maity and their inspiring leadership. They've had a particularly tough year, and we want to flock together to support them! For more information about Meghadeepa's work and fundraiser click here.
Game Night will be a night of fun, hilarity, and birds — for birders, friends of birders, anyone who cares about environmental justice and inclusion, and all of us who are in community with Meghadeepa. Expect trivia, contests, and prizes - special guests TBA! Join us for a good time and friendly competition. Cheerleaders welcome!
Our virtual game night is FREE to watch or play, but we need Owl Hands on Deck! There will be opportunities throughout the night to contribute to Meghadeepa's fundraiser. Contributions before the event are also welcome and can be made when you register on Eventbrite or through Go Fund Me at this link: bit.ly/M_Tuition. (You can also Venmo/PayPal @meghadeepa or write a check, email luca.c.lloyd@gmail.com for check info.)
Games
Play one or all three games. Or just show up and cheer for your friends. Games include...
Games for Solo Flyers—individual games of general knowledge with a birdy twist. Please register using the "As an individual" option and select an "Individual Player" ticket.
Toucan Play—Games for pairs who are on the same wavelength. Please register using "As an individual" and select a "Pairs Game" ticket.
Team Trivia—Classic team trivia for teams of 4 or 6. Gather your peeps, make sure you have one bird nerd on your team, and get ready to throw down! Please register using "As a team member" and come up with a creative team name. Or, if you want to join an existing team, use an existing team name to join a team! If you don't have a team, email us and we'll find one for you!
Prizes
Win one (or more!) of the generously gifted and very exciting prizes. You can win a prize just for showing up! Want to donate a prize? Let us know by emailing mari@Bostonbirdingfestival.org.
Accessibility Information:
Game Night will be a virtual event held on Zoom in English. We are designing the night's trivia games to be accessible for people with a diverse set of abilities. Whenever necessary, visual slides will be described by game hosts, and Zoom closed captioning will be available throughout the night. Some of the night's games will be timed. Written responses may be required. There will not be flashing lights but there may be some unpredictable noises. All event attendees are welcome to participate in some games and watch others, or just observe the entire evening. Please reach out to us with specific accessibility concerns and modifications we can make to accommodate you.
Thank you for playing and for supporting Meghadeepa!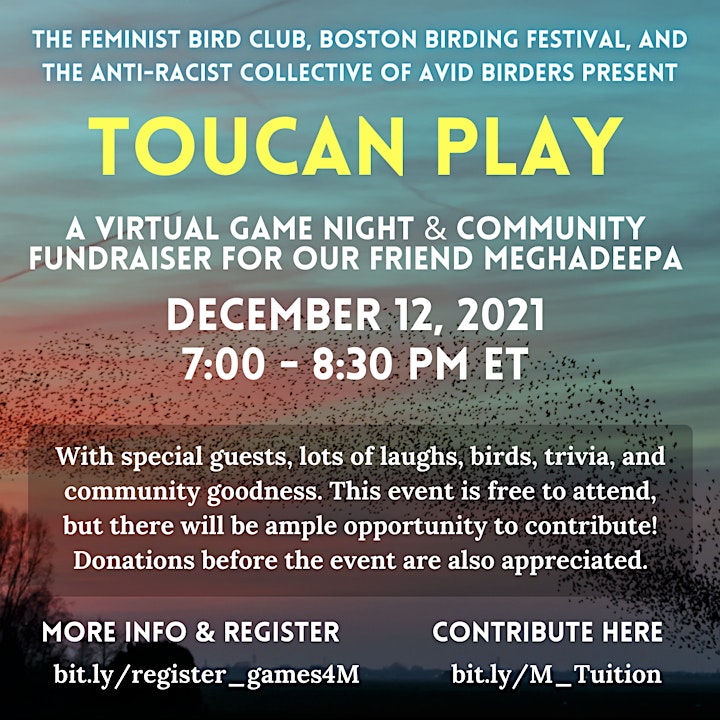 Organizer of Virtual Game Night & Community Fundraiser for Meghadeepa