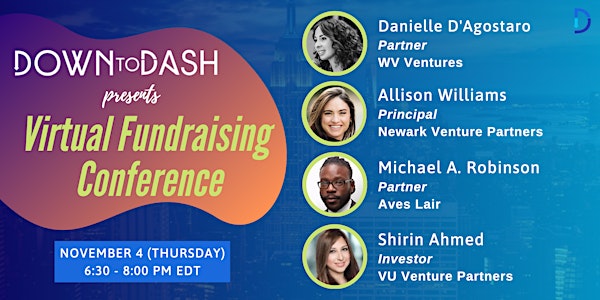 Virtual Fundraising Conference
The Zoom meeting link will be emailed to you on the day of the event. If you do not receive it, please email us at marketing@downtodash.com.
Refund Policy
Contact the organizer to request a refund.
Eventbrite's fee is nonrefundable.
About this event
Join us for a virtual night of pitches, networking and learning from an all-star panel.
Agenda:
6:30 - 6:45 pm EDT: Introduction and Networking
6:45 - 7:50 pm EDT: Panel Discussion & Startup Pitches
7:50 - 8:00 pm EDT: Networking
Panelists:
1. Danielle D'Agostaro - Partner at WV Ventures
Danielle D'Agostaro is the Principal Partner at WV Ventures, a $100M VC joint venture between Advocate Aurora Health, Foxconn, Johnson Controls, and Northwestern Mutual. Danielle is an experienced operator with a demonstrated history in early stage startup investments.
Prior to WVV, Danielle spent the last 7 years building the Alchemist Accelerator into the leading enterprise accelerator in the country where she was Managing Partner and COO. In that role, not only did she run the daily operations of the company, but she also invested in and worked with over 400 companies such as LaunchDarkly, Rigetti Quantum Computing, and Cobalt.io. Before that she worked at Adobe Systems as a digital marketer and developed marketing initiatives for UC Berkeley's campus restaurant's division.
Danielle received a B.A. in Media Studies from University of California, Berkeley where she finished her degree in 2.5 years. She has a passion for food, wine, and film and sees startup founders as the most inspirational people she has ever met.
2. Allison Williams - Principal at Newark Venture Partners
Allison Williams is a former entrepreneur with CEO and COO experience with early-stage software technology companies. Today, as a Principal at NVP, Allison leads Seed and Series A investments and provides operational guidance to the NVP portfolio. She is a key player in the firm's diligence process, manages partner relationships, and helps to build programmatic content for the NVP community.
Prior to joining NVP, Allison founded Yarly, a photo cloud-storage platform. As CEO, she assembled a talented technical team, directed cross-platform product development, established a nationwide distributed salesforce and achieved profitability. In mid-2015, Yarly was acquired by YesVideo, a top competitor which powers over 30,000 retail locations, and Allison was retained as an advisor. Since then, she has been COO of a multinational marketing technology software company serving clients such as L'Oreal and Heineken as well as Head of Strategy for a sports live streaming platform. Allison began her career as an investment banking analyst at Lehman Brothers.
Allison graduated with her B.S. in Economics from the University of Pennsylvania (Wharton School) and received her M.B.A. from Columbia University. Allison proudly serves on the NJ board of the national nonprofit All Stars Project which promotes student career readiness with skills developed via the performing arts.
3. Michael A. Robinson - Partner at Aves Lair
Michael A. Robinson is the protege of the late Washingtonian, Walter G. Reed. In 2012 Reed and Robinson's worlds collided as a quaint friendship that quickly evolved into a business partnership. Robinson continues to build on the Reed legacy as he pioneers the movement of a new asset class and technology. A serial entrepreneur and macro trends researcher, Michael is Chairman / Co-founder of Reed Robinson Asset Strategies, Managing Partner at Aves Lair and Advisor to several blockchain startups.
4. Shirin Ahmed - Investor at VU Venture Partners
Shirin is VC investor, strategist, and policy advisor focused on investing in healthcare and consumer sector and advises startups on navigating with health policy issues. She works at VU Ventures, and previously has worked with several strategics and corporate venture funds. In addition, she is an active partner for startups in emerging countries, and mentors startups with MassChallenge, Columbia Lang Center, XRC Labs and MIT Innovation.
Previously she worked as a Management consulting advising investors, governments, fortune 500 and large academic medical centers in areas of strategy, M&A, turnaround advisory, transactions and new company creation.
She has a graduate degree in Population Health and Healthcare Management from Columbia University, and a BA from UCLA.