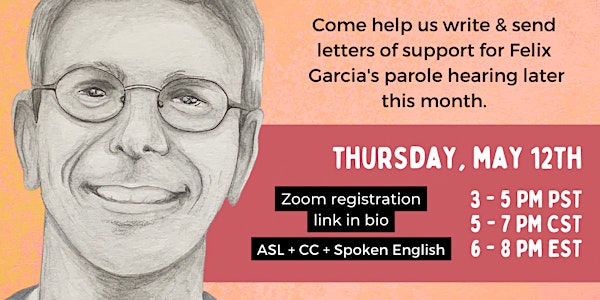 Virtual #FreeFelixGarcia Letter Writing Session
Come help us write & send letters of support for Felix Garcia's upcoming parole hearing!
About this event
Interested in learning about what you can do to support Felix Garica's upcoming parole? Join us for a virtual letter writing session on May 12th!
Time: 3 PM PST / 5 PM CST / 6 PM EST
This event will be presented in ASL with live captioning and English/ASL interpreters.
Can't make it to the virtual event? No worries, you can use our #FreeFelixGarcia Parole Community Letter Writing Guide to write your own letter or email - please share the link with your communities!
Deadline to send your letter: May 15th, 2022
Deadline to send your email: May 20th, 2022
After you've sent your letter or email, please fill out the #FreeFelixGarcia Parole Letter Tracker form.
Together, let's bring Felix home!
#FreeFelixGarcia
#DisabilitySolidarity
#DisabilityJustice
#AbolishPrisons
#DeafInPrison
Zoom Link (if it doesn't work, here's the link: https://us02web.zoom.us/j/86714713217)