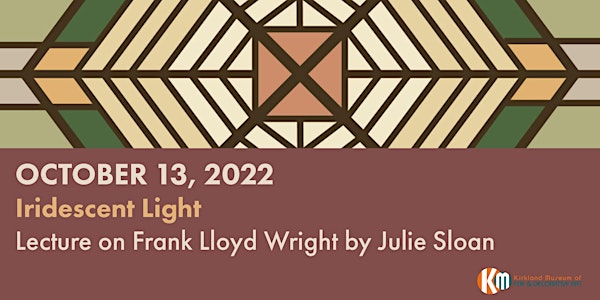 Virtual Frank Lloyd Wright Lecture with Julie Sloan
Julie Sloan will lecture on Iridescent Light in Frank Lloyd Wright's glass designs.
Refund Policy
Contact the organizer to request a refund.
Eventbrite's fee is nonrefundable.
About this event
Lecture will stream live on Vimeo beginning at 6:30pm.
Alternately, register to attend in person live at the Sharp Auditorium, Denver Art Museum, by clicking here.
Member Tickets: $25; General Public: $35; If you aren't already, consider becoming a member to receive the discount.
This is the last of three lectures by renowned Frank Lloyd Wright experts presented as part of Kirkland Museum's celebration of the genius of American architect and designer Frank Lloyd Wright in 2022. This lecture supports our exhibition Frank Lloyd Wright Inside The Walls.
About the Lecture
Julie Sloan, New York-based expert on Frank Lloyd Wright's stained and architectural glass and published author, will lecture on the subject of glass pieces featured in Kirkland Museum's exhibition. Sloan's talk, "Iridescent Light: Lampshades by Frank Lloyd Wright," will discuss Kirkland Museum's newly acquired lamp made from two pieces of art glass designed by Wright.
In 1907, Frank Lloyd Wright was given a large gallery space in the Art Institute of Chicago to display his drawings, building models and decorative art. The show was a major event in Wright's career. The display included three stained-glass windows and several stained-glass lamps, mostly from the Susan Lawrence Dana House in Springfield, IL, and the Darwin D. Martin House in Buffalo, NY, both designed and completed several years earlier. After the exhibition closed, these pieces disappeared. It has been a mystery since then whether the pieces went back to the houses for which they were designed, into Wright's own collection or elsewhere. They were never satisfactorily accounted for, until 2017, when the two windows designed for the Dana House appeared in a Sotheby's auction in New York. Shortly after that, Kirkland Museum was given this lamp, which was found to have been composed of parts of two different art glass shades shown at the 1907 exhibition. This lecture will discuss the 1907 exhibition and its importance to Wright's rise. It will also highlight his relationships with clients and contractors, how he obtained the objects for exhibition and what his contractors put up with to create his unique designs.
About Julie Sloan
Julie L. Sloan has been a stained-glass consultant since 1984, specializing in conservation studies, conservation management, and historical research. Her conservation projects include Saint Thomas Episcopal Church, New York; H. H. Richardson's Trinity Church in Boston; Harvard University's Memorial Hall; Trinity Church, Wall Street; The Riverside Church in New York; and Princeton University's Chapel. She is also an appraiser of American stained glass, certified by the American Appraisers Association and current in USPAP training. She was an adjunct professor of historic preservation at Columbia University from 1985 to 2013; has lectured at Salve Regina University in Newport, RI; Williams College; and Rensselaer Polytechnic Institute; and has given seminars and lectures around the country. Her BA in art history is from New York University (1980) and her MS in historic preservation is from Columbia University (1982). The author of Conservation of Stained Glass in America (Art in Architecture Press, 1995), she has written many articles on stained-glass history and conservation. Her books include Light Screens: The Complete Leaded-Glass Windows of Frank Lloyd Wright (Rizzoli International, 2000); Frederic Crowninshield: A Renaissance Man in the Gilded Age (University of Massachusetts Press, 2010) with Gertrude deG. Wilmers, the artist's great-granddaughter; and The Berkshire Glass Works (The History Press, 2011) with William Patriquin. She also contributed a chapter to A New and Native Beauty: The Art and Craft of Greene & Greene (Merrell, 2008), and the introduction to Frank Lloyd Wright: Art Glass of the Martin House (edited by Eric Jackson-Forsberg, 2009). She is working on a comprehensive history of American stained glass. She lives in Lake Placid, NY.
Want Assistance?
For questions or assistance in purchasing or reserving your tickets, please contact Museum staff at rsvp@kirklandmuseum.org or 303.832.8576 x201.
Please Note
By purchasing tickets to this event, you are giving Kirkland Museum permission to add you to our email list. You may unsubscribe at any time. Your ticket purchase allows Kirkland Museum to host inspiring speakers and record tours. If you find you cannot attend, please consider the ticket purchase a donation toward future programming.