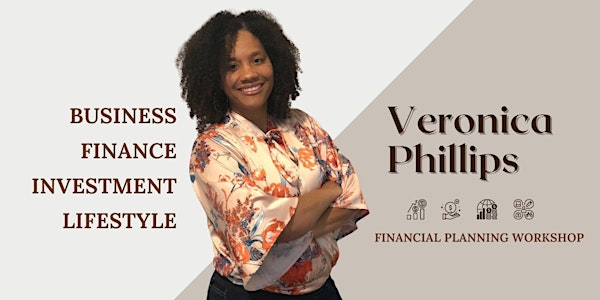 Virtual Financial Planning Workshop
Unlock the secrets of financial success! Join our financial workshop and learn valuable strategies to improve your financial wellbeing!
Date and time
Saturday, June 10 · 3 - 6:30pm PDT
Agenda
12:00 PM - 12:10 PM
Introduction and Welcome
---
Welcome participants and introduce the workshop's purpose and objectives.
12:10 PM - 12:30 PM
Understanding Personal Finance
---
Define personal finance and its importance. Discuss the benefits of financial literacy. Highlight the impact of financial decisions on long-term financial well-being.
12:30 PM - 1:00 PM
Building a Budget
---
Explain the concept of budgeting and its role in financial management. Provide practical tips for creating a personal budget. Workshop exercise: Create a strategy for tracking expenses and identifyin...

1:00 PM - 1:30 PM
Saving and Goal Setting
---
Emphasize the importance of saving money for various financial goals. Introduce different savings options (e.g., Emergency, Short-Term, Long-Term Savings). Discuss effective goal-setting techniques a...

1:30 PM - 2:00 PM
Life Insurance
---
Overview of Life Insurance. Discuss term vs whole life Insurance. Workshop Scenario: Buy Term Life Insurance and Invest the Difference (Financial Planning Strategy)
2:00 PM - 2:20 PM
Introduction to Investing
---
Provide an overview of basic investment concepts and terminology. Explain different investment vehicles (e.g., stocks, bonds, mutual funds, index funds). Discuss the risk and return trade-off and the...

2:20 PM - 2:50 PM
Managing Debt and Credit
---
Explain the types of debt and the impact of interest rates. Discuss strategies for managing and reducing debt effectively. Provide tips for responsible credit card usage and building good credit. Wor...

2:50 PM - 3:10 PM
Financial Planning for the Future
---
Introduce the concept of financial planning and its benefits. Discuss retirement planning, including various retirement account options. Highlight the significance of estate planning and insurance co...

3:10 PM - 3:30 PM
Q&A Session and Closing Remark
---
Answer questions and address any concerns. Summarize the key takeaways from the workshop. Provide additional resources and recommendations for further learning.
About this event
Welcome to Families First Financials comprehensive financial planning workshop! This workshop will guide you through the process of creating a tailored financial plan that aligns with your unique goals and aspirations.
In this workshop, you'll learn how to:
Assess your current financial situation
Set realistic financial goals
Create a budget and manage debt effectively
Understand investment options and how to build a portfolio
Protect your assets with insurance and estate planning
Navigate taxes and maximize deductions
Whether you're just starting out or looking to revamp your current financial plan, this workshop will equip you with the knowledge and tools to achieve long-term financial success.
Join us and take control of your financial future!
Frequently asked questions
What resources are needed to attend the workshop?
Will the workshop be recorded?
Are there any fees to attend this workshop?
Can I invite others to attend the workshop?
What will I gain from attending this workshop?