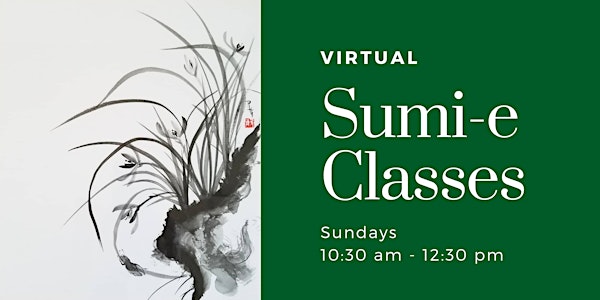 Virtual February Sumi-e Classes
Japanese ink painting, (sumi-e) is the art of painting using brush (fude), ink (sumi) and thin absorbent "rice-paper" (washi).
About this event
About this Event
The overarching theme for the month of February will be February the Theme is Love and Play, and we will be focusing on techniques using examples for each class based upon the Theme. I.e: Birds & Flower Paintings
All levels are welcome, plan to let go and have fun while learning a few new stroke techniques.
If you need course materials a full sumi-e kit is available here.
Beginning Tutorial Lessons are on YouTube. Please subscribe to Larkin Green Studio YouTube Channel. New lessons will be added on a regular basis
4 weeks for $120
Time: Sundays 10:30 AM - 12:30 PM
Dates: February 7, 14, 21, and 28
The emphasis is on the process! The Class will be introduced to the "Four Treasures" (The ink stick, the ink stone, brush and paper) and each class will begin with a demonstration then guided instruction. Check out the YouTube videos for how to paint "The Four Gentlemen" (The lessons introduce the student to the four basic strokes groups).
A Zoom link to join the class will be provided upon registering in the Eventbrite confirmation email.
*Registration closes one hour prior to the class time.