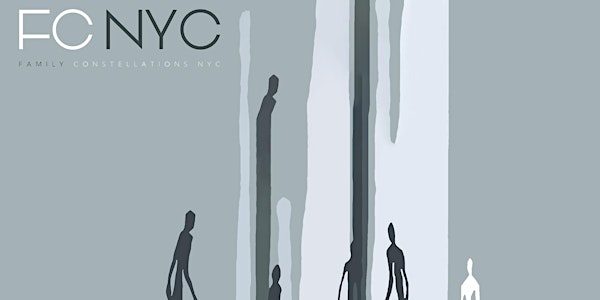 Virtual Family & Systemic Constellations Circle with Luisa Muhr (FCNYC)
With Luisa Muhr (Family Constellations NYC). Family & Systemic Constellations are an alternative healing method developed by Bert Hellinger.
Refund Policy
Contact the organizer to request a refund.
Eventbrite's fee is nonrefundable.
About this event
Please find more information on Family & Systemic Constellations with Luisa Muhr here: www.familyconstellationsnyc.com
"Family and Systemic Constellation work is initiating movement deep within the soul. This movement then translates to the practical world."
"I empower people who want to get a deeper understanding of their own patterns, are curious about their family background, and who currently feel stuck in life, by offering them guidance through ancestral healing movements."
-- Luisa Muhr
We will break some patterns that have made us feel stuck and focus on some in-depth healing through Family & Systemic Constellations. Bring any problem you are currently dealing with (doesn't have to be connected to a family issue).
What is Family & Systemic Constellation work?
Developed by German psychotherapist Bert Hellinger in the 1990's, Family Constellations is an alternative form of therapy work. It involves a group of people who come together, seated in a circle, offering their awareness and presence and thus creating a, what Constellations Practitioners call, "work field". It is an energy field and is where the work takes place. In a virtual setting we will explore this field (and its multitudes) in new dimensions.
The basic principle of Family Constellations is based on the idea that certain issues and patterns we encounter in our daily lives (either on the surface or in the subconscious) are always somehow connected to and deeply rooted in our ancestry. What often is missing is the awareness of these connections.
About the Facilitator:
Luisa Muhr is a New-York-based interdisciplinary artist and healing arts practitioner, specializing in Family & Systemic Constellations. She is originally from Vienna (Austria), with Hungarian and Anatolian-Greek roots. As the descendant of her great-grandfather, a Holocaust survivor, Constellation work has always played an integral part in Muhr's life.
With now more than 18 years of experience in Family and Systemic Constellations, she was first introduced to Family Constellations, Guided Imagery work (Katathym-imaginative Psychotherapy), and Astrology as a young child through her mother and has been shaped by all of these modalities since.
Constellation work was a part of Muhr's life on a monthly to bi-monthly basis, starting when she was 9-years old in her childhood home in Austria, where her mother to this day organizes Constellations workshops. By the time Muhr turned 14 she actively started to participate in Constellations workshops, which were facilitated by her later mentor, Dr. Peter Orban, one of Germany's most prominent Family Constellations facilitators, who was also one of Bert Hellinger's early students. This eventually lead Muhr to complete her Family & Systemic Constellations certification training program with Dr. Orban.
Inspired by her mentor, Muhr's Constellation work can also include a large variety of archetypes (rooted in Carl Jung's teachings). As a Family & Systemic Constellations practitioner Muhr works and has worked at the following healing centers in New York City: MINKA Brooklyn, Balance Arts Center (Midtown Manhattan), Ohm Center (Upper East Side) and at (the former) Maha Rose (Brooklyn).
Muhr is also a certified Deep Listening® practitioner (after experimental composer and pioneer Pauline Oliveros, by the Center For Deep Listening), combining art and healing work in a profound and fully embodied way. She also teaches her own Constellations Training Program, guiding a cohort through their learning journey each year.
During the pandemic Muhr has been developing and shaping a virtual Constellations platform to continuously provide healing for people around the world. Muhr is holding regular workshops on a large variety of platforms and feels strongly about the importance of offering healing space to diverse, marginalized groups of people.
In March 2020 she was scheduled to be a panelist and presenter at University of Michigan, discussing the healing aspects of "Field Work" in the arts/performance practice and in Family Constellation work, which due to the COVID-19 pandemic has now been postponed. Muhr has been featured in multiple podcasts and interviews, such as Kimberly Ann Johnson's podcast, to share this profound work with listeners around the world.
Apart from her work as a healing arts practitioner Muhr is a multi- and interdisciplinary creator and performer, specializing in vocal, movement, performance, installation, and sound art, as well as experimental theater. She also runs New York's leading interdisciplinary womxn and non-binary artists series Women Between Arts (at The New School Glassbox Theater). Muhr has been featured on some of New York's most highly acclaimed stages and venues and tirelessly keeps creating new performance work.
She deeply believes in the power of different types of energy Field Work and that healing happens through multiple shapes, forms, and lenses, the arts being one of them, Constellation work another.
This workshop will be attended by the Family Constellations Training cohort of 2022/23, as part of their training. The structure of and the agreement for the workshop are exactly the same as any other.
Other offerings:
Luisa also offers one-on-one sessions at a sliding scale rate of $85-160.
For inquiries and questions, please contact: fcnycinfo@gmail.com