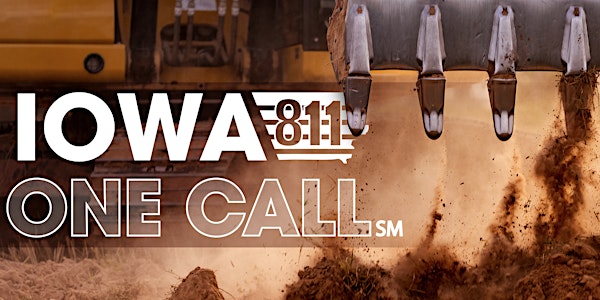 Virtual Excavation Safety Awareness Program (Tuesday, Feb 8, 2022)
Each year Iowa One Call updates excavators, locators and facility operators on one call requirements. This ESAP meeting will be virtual.
About this event
This Iowa One Call Excavation Safety Awareness Program Meeting will be conducted online via the Zoom webinar platform. Zoom meetings typically run one hour long, including time for a Q&A and prize drawings.
There are 6 meeting sessions to choose from throughout February.
This registration page is only for the February 8, 10 AM meeting.
Each session is capped at 270 attendees. If the meeting you'd like to attend is full, please choose another date and/or time from the list on the Iowa One Call 2022 ESAP page.
The 2022 program will feature important information about the rules, regulations and requirements of the "Iowa One Call law," an overview of damage prevention best practices, and an update on the latest one call center tools and processes.
For more information on the 2022 ESAP meetings, visit Iowa One Call online.
FAQ:
How do I know that I'm registered?
Once you complete registration on Eventbrite, you'll get an email confirmation with a link to your meeting; make sure to save this email as you will need the link in order to join the meeting.
What do I do if the session I want to attend is full?
Go to the Iowa One Call 2022 ESAP page and click on the link for a different meeting date and/or time. This will take you to the Eventbrite page for that meeting, where you can then register for the new date and/or time.
What if I want to register with a group of my coworkers?
If you plan to participate as a group on the same computer as your team members, please have one designated person fill out the full registration (name, address, email address, company) and register with first and last names on behalf of each additional attendee who will join the same session via the same computer.
How far in advance do I need to register?
There is no advance registration requirement, however we advise registering as early as possible. Those who register a week or more before their selected meeting date will be entered into a prize drawing.
How do I join my meeting?
Just before your meeting start time, click the Zoom link that was emailed to you after you registered with Eventbrite. Zoom will open and you'll be taken directly to the virtual meeting.
How will the Q&A work with the meetings being virtual?
Attendees will be able to participate in the Q&A session by submitting their questions via Zoom at the end of each presentation. Questions and answers will be posted on Iowa One Call's 2022 ESAP page after meetings have ended.
What if I've never used Zoom before?
Get a tutorial on downloading and installing this free program on the Iowa One Call 2022 ESAP page or by viewing the video below. If you are new to Zoom and need to install it before the meeting, we recommend starting the process a few minutes before your session's start time.