About this Event
Your $30 event ticket will give you access to a live online book talk with bestselling author Kristin Harmel, the ability to view a 48-hour replay in case you miss the live event, AND you'll get an (unsigned) paperback copy of her latest release, The Winemaker's Wife, shipped directly to you*. You'll also have the chance to type in questions to be answered during the event Q&A session.
So, buy a bottle of champagne to have on hand and we'll all toast to Kristin, The Winemaker's Wife, social distancing, and to resilience in times of crisis!
*Note: The author has offered to mail out signed bookplates to all attendees due to current circumstances. If you do not want us to share your shipping address with the author, please let us know, and we will exclude you from that mailing. In addition, the author will be surprising one lucky attendee with a FREE signed copy of her first book, The Room on Rue Amélie!
Access to the Event
The talk will be hosted at https://www.crowdcast.io/. You can watch through your browser and are not required to download any software (though mobile apps are also available). Once ticket sales cut off 48 hours before the event, we will send you an email with the link to the specific event URL.
Shipping
Make sure to give your US Postal Service mailing address during the signup process so that we can deliver your book. International customers: We can also ship to you, but you MUST purchase the international shipping add-on. Local customers: For this event you will not be able to pick up your book at the store as we are designing things so the event will work even if our retail storefront temporarily closes.
*We will do our best to mail your books promptly, but this depends on our distributor remaining open during the crisis.
Substitutions
We apologize in advance, but we cannot make any book substitutions. If you already have the book, we suggest you donate the copy you receive.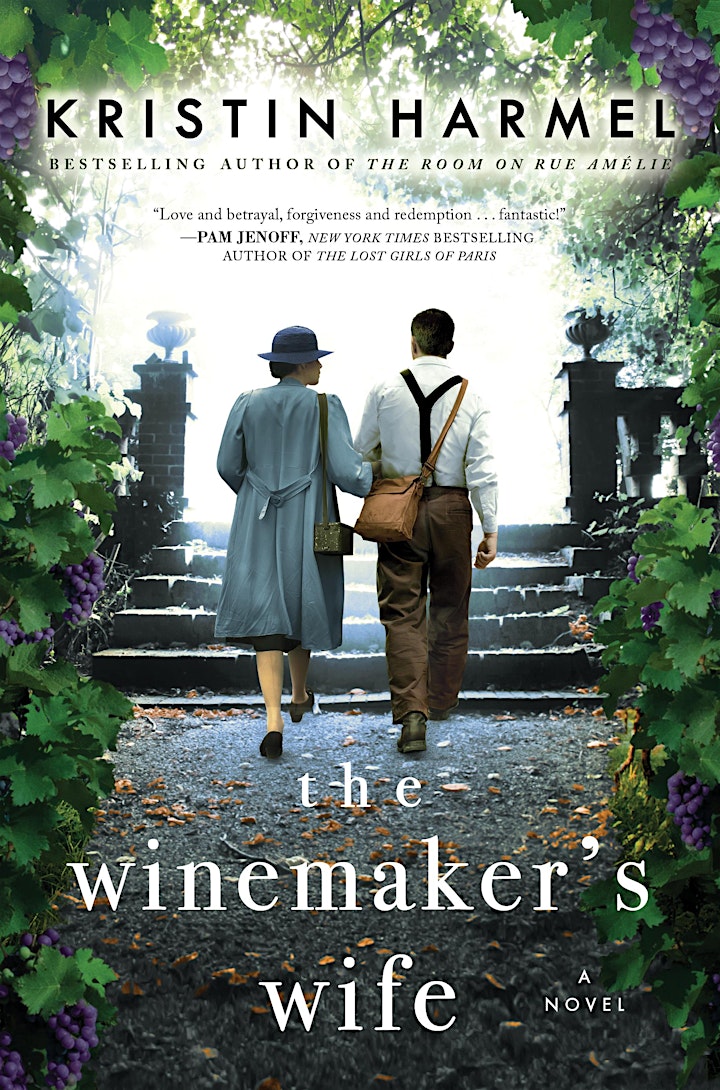 "Love and betrayal, forgiveness and redemption combine in a heady tale of the ever-present past…fantastic!" —Pam Jenoff, New York Times bestselling author of The Lost Girls of Paris
The author of the "engrossing" (People magazine) international bestseller The Room on Rue Amélie returns with a moving story set amid the champagne vineyards of northern France during the darkest days of World War II, perfect for fans of Kristin Hannah's The Nightingale.
Champagne, 1940: Inès has just married Michel, the owner of storied champagne house Maison Chauveau, when the Germans invade. As the danger mounts, Michel turns his back on his marriage to begin hiding munitions for the Résistance. Inès fears they'll be exposed, but for Céline, half-Jewish wife of Chauveau's chef de cave, the risk is even greater—rumors abound of Jews being shipped east to an unspeakable fate.
When Celine recklessly follows her heart in one desperate bid for happiness, and Ines makes a dangerous mistake with a Nazi collaborator, they risk the lives of those they love–and the champagne house that ties them together.
New York, 2019: Liv Kent has just lost everything when her eccentric French grandmother shows up unannounced, insisting on a trip to France. But the older woman has an ulterior motive—and a tragic, decades-old story to share. When past and present finally collide, Liv finds herself on a road to salvation that leads right to the caves of the Maison Chauveau.
"The Winemaker's Wife is a heart-wrenching story about how one decision can change our lives, perfect for fans of The Nightingale."–POPSUGAR
About the author:
KRISTIN HARMEL is a #1 international bestselling novelist whose books have been translated into numerous languages and are sold all over the world. A former reporter for PEOPLE magazine, Kristin has also freelanced for many other publications, including American Baby, Men's Health, Glamour, Woman's Day, Travel + Leisure, and more.
Her latest novel, The Winemaker's Wife, a World War II tale of love, family, and betrayal set in the rolling vineyards of Champagne, France, is out now from Gallery Books/Simon & Schuster. Her previous novels, The Room on Rue Amelie, The Sweetness of Forgetting, The Life Intended, and When We Meet Again -- were all international bestsellers.
Kristin grew up in Peabody, Mass.; Worthington, Ohio; and St. Petersburg, Fla., and she graduated with a degree in journalism (with a minor in Spanish) from the University of Florida. After spending time living in Paris, she now lives in Orlando, Fla., with her husband and young son. She enjoys traveling (especially to France!), reading, cooking, wine tasting, and hanging out at Walt Disney World.
Refund Policy:
You may request a full refund up to 3 days prior to the event. After that, we'll already have sent the book orders to be fulfilled and cannot issue a refund.
If you miss the live event, you have up to 48 hours to watch the replay (at the same link) before it's taken down.
If your book doesn't arrive within 2 weeks of the event (domestic) or 4 weeks (international), please contact us at info@fiction-addiction.com.