Sales Have Ended
Registrations are closed
*Join SITEC Startup Community Whatsapp Group and get notified on SITEC Startup Programme. Click the link below to join: https://chat.whatsapp.com/Czluy3DpdHAHK0t0itsz6d
Sales Have Ended
Registrations are closed
*Join SITEC Startup Community Whatsapp Group and get notified on SITEC Startup Programme. Click the link below to join: https://chat.whatsapp.com/Czluy3DpdHAHK0t0itsz6d
Witness this VIRTUAL pitching competition of 12 local A.I. Startups as they battle to pitch their talents and business potentials
About this event
Welcome to the new norm! PITCH@SELANGOR 2ND SERIES: A.I. ARENA is going VIRTUAL following the new norm and keep everyone stays safe. Twelve local Artificial Intelligence (A.I.) related Startup will have seven minutes to pitch their business potential to a panel of judges.
------------------------------------------------------------

About Pitch@Selangor 2nd Series: A.I. Arena:
The startup fever is indeed alive and kicking in Selangor! Pitch@Selangor is a business pitching event organised by the Selangor Information Technology & E-Commerce Council (SITEC) that provides a platform for early-stage businesses to connect with potential supporters including Angel Investor, Mentors, and Business Partners.
The first series of Pitch@Selangor event had been successfully held in November 2019 at One World Hotel with overwhelming responses, attended by 500 audiences, including government officers. Dropee and Petotum both emerged as champions for SMEs and Social Enterprise categories respectively. The Top 3 winners from each category had been invited to a study visit to Silicon Valley, San Francisco, the United States of America from 8th to 17th February 2020. The study visit was held to promote their products and services to various Techs. Incubators and Venture Capitals based in Silicon Valley.
This year Pitch@Selangor 2nd Series will be a new pitching arena for startups in the Artificial Intelligence (A.I.) industry to showcase their business potentials. The objectives for this pitching competition are to provide a platform for local A.I. startups to pitch their products and solutions, promote adoption of local A.I. products and solutions among the business community and government sector and provide business match-making between local A.I. providers and users.
An impactful startup community will be a crucial element that contributes towards Selangor State's Agenda of achieving the Smart State Status by 2025. A total of 12 startups has been shortlisted for Pitch@Selangor 2nd Series to pitch and showcase their business potential. Pitch@Selangor 2nd Series: A.I. Arena has the honour to invite various stakeholders including influential Venture Capitalists Tech. Incubators, government agencies, and A.I. Experts as part of the judging panel. Let the Best Idea Win!
------------------------------------------------------------
Event Details:
10.00 AM - Welcome Speech by Mr. Yong Kai Ping, Chief Executive, SITEC
10.05 AM - Opening Speech by Y.B. Dato' Teng Chang Khim, Selangor State Executive Councillor for Investment, Industry & Commerce and SMEs
10.10 AM - Keynote Speech by Dato' Syed Haizam Jamalullial, Principle, Tuas Capital Partners
10.15 AM - Presentation of token appreciation for panel of judges
10.20 AM - Pitching Competition [7 Minutes of Presentation, 5 Minutes of Q&A]
12.50 PM - Sharing Session by judges
1.00 PM - Awards Ceremony
**This is a virtual pitching event that will be conducted through SITEC Facebook live
------------------------------------------------------------
Panel of Judges: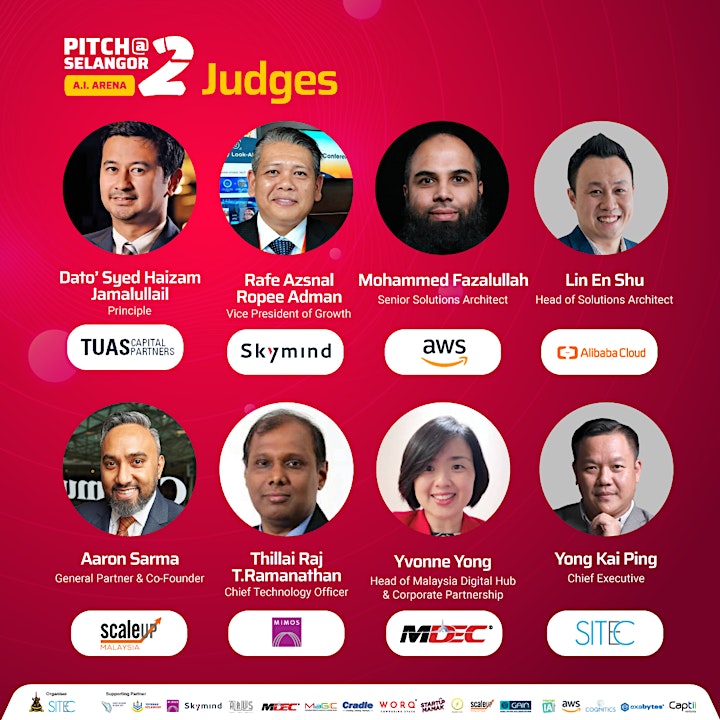 Contestants: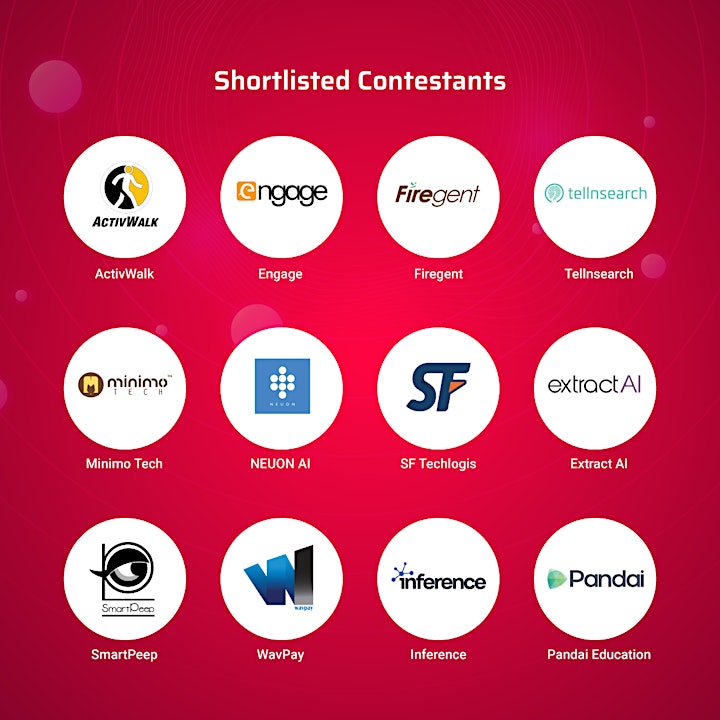 Who Should Attend?
Business owner, entrepreneur, investor, investment company, venture capital, startups, e-commerce business owner, students, NGO, government agency, government link company, and chambers
------------------------------------------------------------
Enquiry:
Website: https://www.sitec.com.my/pitchselangor-2nd-series-a-i-arena/
Email: info@sitec.com.my
Tel: 0195406156 (Syndy)

About SITEC:
SITEC (Selangor Information Technology and E-Commerce Council) was initiated by Selangor State Government in 2015. We conduct a series of seminars aiming at increasing the e-commerce and startup know-how for Small and Medium Enterprises. We also host forums and discussion panels inviting emerging and successful e-commerce and startup entrepreneurs to share their stories and real-world experiences. We hope this can serve as the catalyst for the traditional industry to transform their business successfully online and help Selangor to stay at the forefront of social-economy growth driven by this new and fast growing world of e-commerce.
Organizer of VIRTUAL EVENT: PITCH@SELANGOR 2ND SERIES: A.I. ARENA
Established under the secretariat of Invest Selangor by the Selangor State Government, the Selangor Information Technology and E-Commerce Council (SITEC) is chaired by Chairman of the Standing Committees of Investment, Industry & Trade, Small and Medium Industries (SME) and Transport; Selangor State Government EXCO. SITEC aims to develop Selangor as the regional trading hub for e-Commerce and to uplift the startup ecosystem within the state.
As such, it has undertaken a variety of initiatives, from the four core thrusts incorporating education and active participation, in order to boost and support the nascent e-Commerce and startup scenes in Selangor.
Under the guidance of the SITEC council members, SITEC has identified four main thrusts to drive economic activity in the two main industries, startups and e-Commerce:
- SITEC Apps 100
- SITEC Online 100
- Selangor Digital Creative Centre (SDCC)
- E-Commerce Education
SITEC has established a set of clear objectives to guide our aspirations in achieving our aims. Through two of our thrusts, Online 100 and Apps 100, we intend to steadily reach out to brick and mortar merchants in Selangor to get them onboard e-commerce as a supplement to their retail efforts. Additionally, we are gradually establishing ourselves as a key Digital Economy player through our strategic partnerships, reaching out to tens of thousands of individuals within the local e-commerce, startup and tech spheres.
As of December 2017, SITEC has:
- On-boarded 300 Selangor brick and mortar merchants to sell online via Online 100
- Produced 300 mobile apps for these Online 100 merchants
- Reached out to over 80,000 people in related areas locally and overseas
- Ran 58 e-commerce and startup educational classes
- Facilitated our Online 100 merchants in generating RM 7,300,000 in Gross Merchandise Value