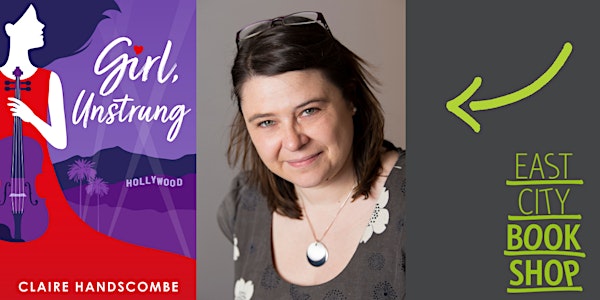 Virtual Event: Claire Handscombe, Girl, Unstrung
East City Bookshop welcomes Claire Handscombe with her new book Girl, Unstrung.
Refund Policy
Contact the organizer to request a refund.
About this event
East City Bookshop welcomes ECB bookseller Claire Handscombe with her new book Girl, Unstrung.
About Girl, Unstrung
Nothing's going to distract Clara from her burgeoning career as a viola player.
Not her semi-famous dad.
Not her new stepmom.
Not her annoying sisters.
And definitely not Tim, the swoopy-haired Scrabble geek...
You might think it's fun to grow up around Hollywood with semi-famous parents. You'd be wrong, and Clara Cassidy would be the first to tell you so.
She's fourteen, figuring out life with three siblings and a new stepmom, and navigating her freshman year at a stupid high school where she doesn't even want to be. She was supposed to be at arts school by now.
It's fine, though, totally fine: she's going to practice her viola extra hard and get into LACHSA next year. She's definitely 100 percent focused and not even slightly going to get distracted by Tim, the sophomore Scrabble champion with the swoopy hair and the chin dimple. Nope. Not her.
About Claire Handscombe
Claire Handscombe moved from Europe to DC in 2012, ostensibly to study for an MFA in Creative Writing, but actually – let's be honest – because of an obsession with The West Wing. As well as Girl, Unstrung, she is the author of Unscripted, a novel about a young woman with a celebrity crush and a determined plan, and the editor of Walk With Us: How The West Wing Changed Our Lives. She also hosts the Brit Lit Podcast, a show of news and views from British books and publishing.