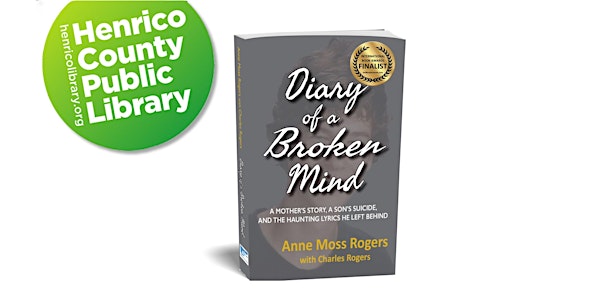 VIRTUAL EVENT: Author's Showcase Henrico, Virginia Library
Short Presentation and Book Discussion
About this event
Diary of a Broken Mind is the 2020 New York Festival Award Winner, International Book Award Finalist, 2020 Library of Virginia Literary Award Nominee, and Reader's Favorite Award Winner.
The author's showcase is a library event that allows authors to discuss their work. There will be a short talk, a reading, then a discussion. This is usually followed by a book sale and book signing for Diary of a Broken Mind however, a link will be posted where you can buy your copy. Thank you for supporting an author and I'd love those who've read the book to attend. https://diaryofabrokenmind.com
Description: The funniest, most popular kid in school, Charles Aubrey Rogers, suffered from depression and later addiction, then died by suicide. Diary of a Broken Mind focuses on the relatable story of what led to his suicide at age twenty and answers the "why" behind his addiction and this cause of death revealed through both a mother's story and years of Charles' published and unpublished song lyrics. The closing chapters focus on hope and healing– and how the author found her purpose and forgave herself. Read the introduction.
#rva #griefspeaker