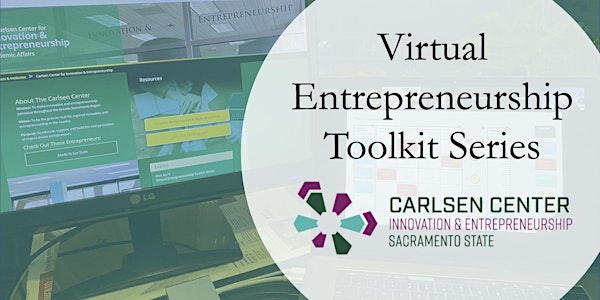 Multiple Dates
Virtual Entrepreneurship Toolkit Series
Take your business or business idea to the next level with this five-week long online series!
About this event
The Carlsen Center for Innovation & Entrepreneurship presents a new virtual series of workshops designed to teach participants about building the foundation of a new enterprise. This Virtual Toolkit Series guides participants through hands-on activities to build an understanding of proven startup tools and apply them to their own businesses. Whether you're a budding entrepreneur, or an established business owner wanting to brush up on your skills, the Virtual Toolkit Series is for you.
*Participants will get the most value out of attending each of the 5 workshops. However, we welcome you to join for the sessions that will be most impactful for your business.
Schedule:
Week 1 (January 26th) – Customer Segments, Customer Problems, Culture and the Founding Team
Learn how to ensure your proposed solution maps to a customer problem/need. This is known as the Problem-Solution Fit. The bigger the problem, the bigger the market opportunity.
Explore how the leading strategic innovation methods, such as Lean/ Business Model Canvas, can help uncover your key customer segments and problems that need solving.
Examine your leadership team and the strengths and weaknesses that they bring to your business.
Week 2 (February 2nd) – Unique Value Proposition, Solution, Existing Alternatives, Early Adopters, and Jobs-to-be-Done
Document your offering, its key features that solve the customers' problems/needs, and determine what unique competitive advantage you might have.
Learn Design thinking concepts such as brainstorming and practice creating prototypes of a new product/service.
Identify your early adopters
Week 3 (February 9th) – Go-to-Market Strategies, Ideation, Traction, Experiments, and Assumptions
Understand how to get your offering to the market through the correct channels.
Determine how to get, keep and grow customer relationships.
Learn to test and validate your Product-Market Fit.
Week 4 (February 16th) – Revenue, Costs, Key Metrics, MVP, and Financial Projections
Review how you capture revenue, and what your cost drivers are.
Determine your key metrics and prove that your offering solves problems or fills needs.
Deploy the Lean Startup framework and define your minimum viable product (MVP).
Document realistic near-term financial projections so that investors can see your potential.
Week 5 (February 23rd) – Pitching, Accomplishments, Unfair Advantage, and Funding Needs
Create your pitch deck, practice pitching to mentor, and get direct feedback on your story.
List accomplishments to date, including any sales or market traction.
Show Business Model Fit: Understand how you create, deliver, and capture value.
Listen to the Investor Panel discuss startup funding methods, and have the opportunity to ask them questions regarding funding, and what investors are looking for.
**If any special accommodations are needed please let us know at least two weeks in advance to secure the needed accommodations.
Organizer of Virtual Entrepreneurship Toolkit Series