An interactive training designed for fundraisers and organizational leaders who are looking for innovative ways to engage donors on Zoom!
About this event
Virtual Donor Cultivation Events
How to design meaningful and engaging virtual experiences on Zoom!
INTERACTIVE TRAINING to boost your donor relationships in 2020!
"Time very well spent! This experience taught me easy ways to pivot to virtual cultivation right away. Also a great networking opportunity." Fundraising Executive, NYC
The Training Experience
Virtual Donor Cultivation Events is a training designed for fundraisers and organizational leaders who are looking for innovative ways to engage donors online and to create virtual donor experiences on Zoom.
Because: The global pandemic has radically changed the way we work as fundraisers and nonprofit leaders. It is expected that much of 2020 will be marked by the need for social distancing. Even as restrictions will be removed or adjusted, we anticipate changes in how we meet and engage with our most loyal supporters and major funders.
What do you do without in-person parlor meetings, cocktail parties, donor briefings, and even donor mission trips? Webinars alone will not suffice to bring donors into the conversation, to build loyalty to your organization, and create social connections.
The Answer: Interactive Virtual Donor Cultivation Events on Zoom!
In this training, I will introduce you to live virtual alternatives to your thoughtfully crafted in-person cultivation events where personal connections can be made and future giving decisions formed.
I will invite you to imagine new ways of involving your donors beyond webinars and video conferencing. And, I will show you how to actively engage your donors in the experience using powerful facilitation techniques, zoom breakout rooms, and chat.
Learn together with other fundraising professionals how to overcome the inherent challenge of geographic distance and the virtuality of being online. Explore the possibilities for using the virtual space and Zoom to engage your donors and prospects. And seize the opportunity to set your organization apart by doing something new and exciting. Learn how to be an innovator by boosting your fundraising today!
You Will Be Leaving This Training With
Powerful ideas for meaningful and engaging live virtual donor cultivation events
Energizing opportunities for building community and increasing donor affiliation
Practical tips for setting your virtual donor events up for success
Hands-on tools to lead your live online events with ease and joy
Virtual facilitation tools to engage donors
Techniques for setting your nonprofit apart this year
Lots of tips on how to leverage Zoom breakout rooms and chat
Connections with colleagues in the field
Training Format
Interactive: Everyone is going to be engaged and included.
Completely practical: We will be sharing and experiencing ideas that you can implement with ease at your organization.
Deeply mind-shifting: We will be exploring new opportunities to meaningfully engage our donors online in the absence of in-person events this year.
Exclusively Designed For Fundraisers And Executives
This experiential learning workshop is specially and exclusively designed for professionals who hold fundraising responsibilities in nonprofit organizations, who are eager to help their organizations succeed, and who are innovators by heart. Invited are
Executive Directors/CEOs
Senior organizational staff
Chief Development Officers/Director of Development
Major Gift Officers
Other Fundraising Professionals
What Participants Have Been Saying
"This was a great way to learn how to use ZOOM to interface with donors and the community. It was also a great networking opportunity. Terrific job!" Executive in Albany, NY
"I was so inspired. It really opened my mind about possibilities that I had not considered. Loved the Breakout ideas and virtual parlor meeting." National Director of Development, NYC
"It was amazing!" National Foundation Relationship Manager, NYC
The Training Is Brought To You By
Tanja Sarett, M.A, CFRE: an international fundraising and philanthropy consultant, facilitator, and executive coach. As a life-long learner and explorer of new opportunities, she brings techniques and tools from IDEO Design Thinking, Liberating Structures, and the agile community to the nonprofit world. Tanja is an AFP Master Trainer and 21/64 Multigenerational Giving Advisor. She is the founder of Synergies in Philanthropy Consulting.
"My passion is designing and sharing creative, effective, and team-centered solutions with you: fundraising professionals and organizational leaders. It is my mission to help unleash your inner potential and boost your fundraising efforts. I believe in tapping into new tools and opportunities to successfully adapt to the changing 21st-century fundraising environment".
About The Facilitation Tools
The facilitation tools in this training are "Liberating Structures" techniques. Spreading through the technology ecosystem, "Liberating Structures" are simple social techniques that distribute participation more widely while drawing out greater difference and variation within groups. Making waves in the United States and around the globe, and with a growing following in the Agile and Scrum worlds, "Liberating Structures" ignite the interest and energy of leaders and teams. 
How To Attend 
Since the training will be interactive and fully-participatory (through breakout rooms, chat, and polls), your participation via your computer, ipad or notebook is required.
And most importantly, join us with your curiosity, and your openness to sharing and learning from others.
Seats are limited, so register today and take advantage of the Early Bird rate.
For Information & Questions
Be in touch with any questions you may have. You can reach me at tanja@synergiesinphilanthropy.com
Refund Policy
If you cancel before July 6, 2020, your ticket will be refunded. An admin fee will apply. No refunds after July 6, but you are welcome to transfer your place to someone else.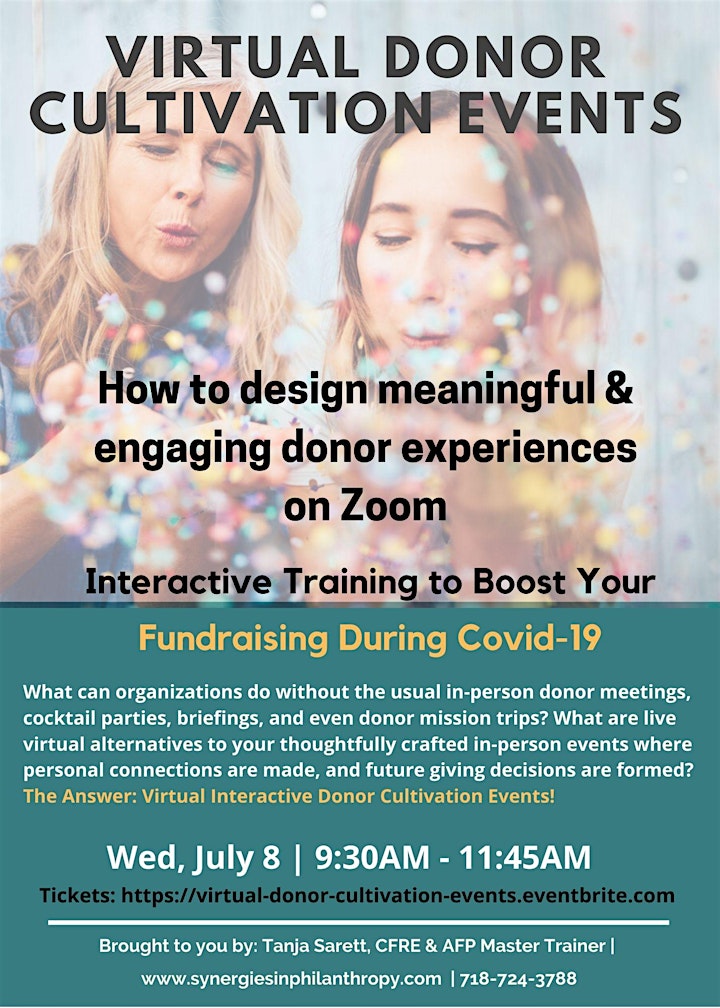 Organizer of VIRTUAL DONOR CULTIVATION EVENTS!
Tanja Sarett, M.A, CFRE, is a certified virtual facilitator, executive coach, and international fundraising and philanthropy consultant. As a life-long learner and explorer of new opportunities, she brings techniques and tools from IDEO Design Thinking, Liberating Structures, the Technology of Participation, and the agile community to her work with professionals and teams. Tanja is an AFP Master Trainer and 21/64 Multigenerational Giving Advisor, and the founder of Synergies Created | Synergies in Philanthropy Consulting. www.synergiesinphilanthropy.com