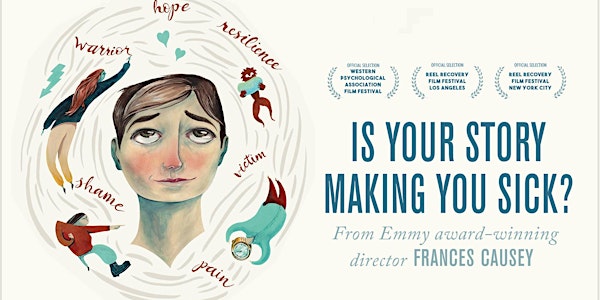 Virtual Documentary Screening: Empower Healing Through Your Story!
Join Our CCC for a virtual viewing of the Documentary "Is Your Story Making you Sick?"
Refund Policy
Contact the organizer to request a refund.
Eventbrite's fee is nonrefundable.
About this event
As we anticipate the last few weeks of the calendar year, we can look out toward the holiday horizon. For some of us, this horizon might hold the promise of togetherness and celebration-a-plenty. For others, it might hold a longing for a kind of togetherness that is not within our reach for any number of reasons.
As Ram Dass says:
If you think you're enlightened,
go spend a week with your family.
What we know for sure about all of our experiences is that the story we hold affects the quality of our story's unfolding. We believe this is an empowering insight!
As we approach the holidays and the changing of seasons to winter, it is a time of rest and hibernation. We can take in the lessons of nature, the weather and wildlife, or even the people/relationships around us.
Animals are shifting from the heavy work harvesting of autumn to coming out to sunbathe. The songbirds are here for winter, migrating has happened and the animals are starting to settle in.
How can we show ourselves more compassion and self-care to shift from the busy buzzing of autumn to settle in and conserve our energy. It's an important time where we can see the relationship between the rest that happens in winter of the work that happens under the ground readying for Spring.
Come join Our Conscious Community Collaborative for a virtual viewing of "Is Your Story Making You Sick."
We can use this viewing and time together to start readying ourselves for the deep dive inward we'll take during winter and the holidays. Shifting the most important relationship we have -WITH OURSELVES -that is then reflected in our relationships around us, family, friends, exes, children, work, finances etc. etc.
What: Virtual Viewing of "Is Your Story Making You Sick
Where: Online Zoom - You must RSVP/Register for this event to get the email with the zoom link
Personal Investment: $0 Free
When: Tuesday evening, November 29th 6:30-9:00
After watching the documentary Our CCC will facilitate a conversation of integration.
Warmly-
Our Conscious Community Collaborative

As the Conscious Community Collaborative (CCC), our Holistic Providers are co-creating and collaborating with each other and the greater community to empower healing at both the individual and collective level, during this time of intense uncertainty and unrest.
We grow together. Please contact us at ourcccfoundation@gmail.com with suggestions for future events/resources that would support you on your / our healing journey!
Join us on Facebook at:
OurConsciousCommunityCollaborative
or in our CCC Facebook Group:
Empower Healing Through Your Story
On Instagram:
To learn more visit:
http://ourconsciouscommunity.org/
Our CCC was inspired by the documentary "Is Your Story Making You Sick?" The film follows the journey of eight courageous individuals as they transform their personal stories of pain, suffering, and breakdown into breakthroughs. You can witness the 15-minute version of the film through the link below after entering your email when prompted.
Virtual Screening: