Chica Project's 9th Annual Dinner Party with a Twist!
About this Event



We're Going Virtual!
Join us on Saturday, May 9th from 7:00 PM to 8:30 PM via ZOOM for a festive evening celebrating our participants, as they share their stories and the impact that Chica Project has had on their lives. We couldn't do this without your support!
*This event is free, brought to you by our generous sponsors.
What to Expect
A youth-led online gathering of Chica Project participants and supporters. There will be live music and dancing (we will be taking song requests via live-chat), updates from Chica Project, and most importantly, inspirational stories from our youth and mentors.
Featuring Amanda Mena, Contestant from Season 13 of America's Got Talent, PLUS other Special Appearances, so make sure to mark your calendars!

Estas invitado a nuestra novena cena anual: Dinner Party with a Twist!
Más del Evento
Lo haremos virtual!
Acompañanos este Sábado, 9 de Mayo de 7:00 PM a 8:30 PM via Zoom a celebrar a nuestras participantes, mientras comparten sus historias personales y el impacto que Chica Project ha tenido en sus vidas. No podríamos hacer esto sin su apoyo!
*Este evento es gratis gracias a nuestros generosos patrocinadores
Qué puede esperar
Una reunión llevada por nuestra juventud en la cual nos reuniremos con nuestros participantes y partidarios. Habrá música en vivo y oportunidades para bailar (vamos a estar recibiendo peticiones vía chat), actualizaciones del trabajo que estamos haciendo en Chica Project, y sobretodo, anécdotas inspiradoras de nuestra juventud y mentores.
Presentando Amanda Mena, Concursante de la temporada 13 de America's Got Talent, MAS otras Apariencias Especiales, asi que asegurese de marcar sus calendarios!

Agenda
*Timeline is subject to change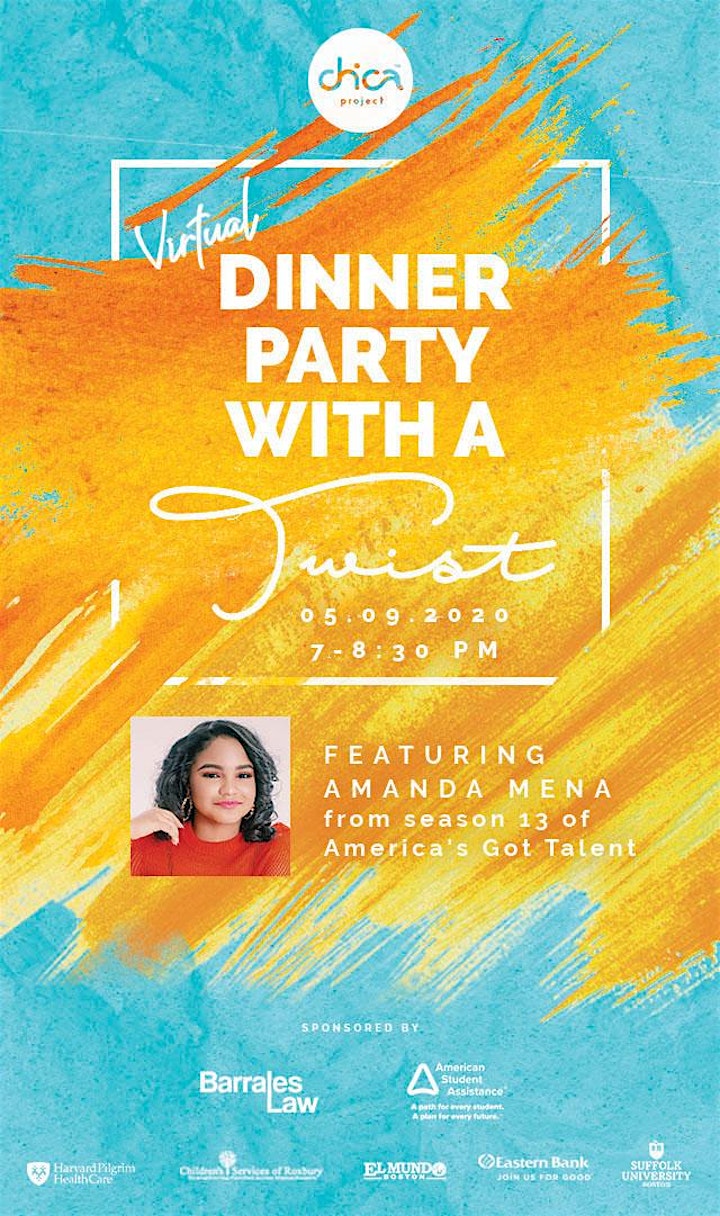 Zoom Link: https://us02web.zoom.us/j/88218188439
Meeting ID: 882 1818 8439
One-tap Mobile:
+12532158782,,88218188439#
+13462487799,,88218188439#
A Message From Chica Project
As a result of the COVID-19 pandemic, Chica Project, like many organizations in Massachusetts and around the country, has had to postpone and reassess the viability of any in-person events. After careful deliberation, we have decided to launch the Chica Project's Virtual Village, our online programming community. Our Virtual Village allows participants and mentors to connect, help-cope, and continue to cultivate positive relationships during these uncertain times.

Un Message de Chica Project
Consequentemente a la pandemia del COVID-19, Chica Project, como muchas otras organizaciones en Massachusetts y en todo el país, ha tenido que posponer y re-evaluar la viabilidad de todos los eventos en persona. Después de mucha consideración, hemos decidido transformar nuestros eventos regulares a lo que llamamos "Chica Project's Virtual Village", nuestra comunidad de programación en-línea. Nuestro "Virtual Village" permite que participantes y mentores se conecten, se ayuden a lidiar con esta situación sin precedentes, y permite la cultivación de relaciones positivas durante estos momentos tan inciertos.

Thank You to our Generous Sponsors