(virtual) DevOps Culture - Facilitator Training (Lego and Chocolate simulat...
Event Information
Refund Policy
Refunds up to 30 days before event
Description
***
Facilitator training (live instructor-led virtual class)
Previous experience playing DevOps with Lego and Chocolate simulation (at conferences, meetups or private workshops with Dana) is highly recommended, but not mandatory.
Check out the game compilation video
***
Why should your organization care about DevOps?
Organizations today can no longer afford to deliver new products or new features to their respective markets once a year or even once a quarter.
While not everyone can reach the rate of change that Amazon reports, adopting DevOps can help an enterprise significantly shorten their lead time and increase the deployment frequency. All while achieving much lower change failure rate, higher availability and better security.
---
What is unique about DevOps (with Lego and Chocolate) game?
This workshop makes a very technical DevOps topic accessible to all.
The workshop enables everyone in an organization to gain a solid understanding of foundational principles of the DevOps culture and experience the benefits of DevOps transformation even before initiating one in their company.
Unlike some other simulation, this one is
1) short ( you can run it in 2 - 4 hours),
2) effective (received rave reviews from over 900 participants in 15 countries!
3) accessible to technical and non-technical folks. Yes, business stakeholder will love it too!
What you will learn in virtual facilitator's class:
1. Inspiration, history of the game. What's new in 2019 version.
2. How to facilitate the basic, emergent and hidden dynamics of the game.
(Please note: We will not be running the DevOps with Lego and Chocolate game. This class assumes that you have played it before at a conference, a meetup or a private workshop.)
3. Emotional side of the game and how to enable psychological safety in the room.
4. Audience (target, size, scaling options)
5. How to set up the room to enable successful simulation and what to pack for each group/each round.
6. Where to get more supplies.
7. In-room posters required for 2019 version of this simulation.
8. Tips for Debriefing with Liberating Structures.
9. Fear in the Workplace Game ideas (Third way of DevOps)
10. Licensing model, support, facilitators community.
This training includes all the latest game modifications (2019 version) delivered to you by the game creator!
---
Upon the class completion, you will receive a digital access to:
1) Latest PowerPoint deck of 2019 version of the game.
2) PDF version of the facilitator handout.
3) Workshop packing checklist.
4) Workshop game flow handout.
---
What you will be able to do after this class:
1) Facilitate DevOps with Lego and Chocolate game with group from 10 to 50 people
2) Provide clear instructions on the game flow and spot the anti-patterns as they appear in the group.
3) Conduct effective debriefing of this simulation and draw parallels between the issues highlighted in the simulation and some of the similar issues the learners may have in their organizations.
4) Deliver a very technical DevOps topic in a format that makes it accessible to all. Yes, your management and your stakeholders as well!
This is how your class may look like when you run it in your organization: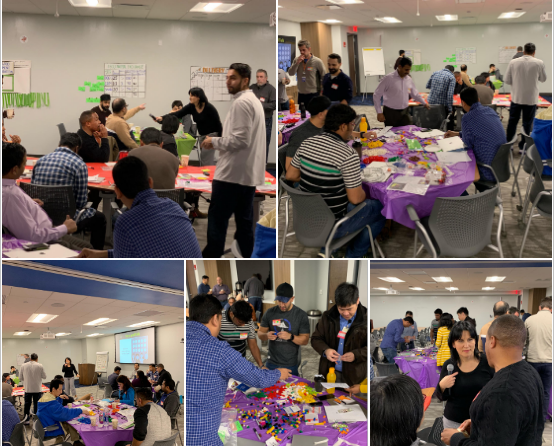 The simulation is designed for a broad audience, enabling participants to gain the insights into the "Why" and the "What" of the DevOps before jumping into the "How". Through this powerful role-based simulation, participants experience the benefits of cross-training, learn to eliminate silos, adopt systems thinking and practice optimizing the flow of value from business to development and to IT operations.
This unique simulation uses LEGOs, Chocolate, role cards as well as principles of "Training from the Back of the Room" by Sharon Bowman to maximize engagement and enable the shift of the learners' mindset from reluctant sceptics to supporters and advocates of DevOps culture.
What people say about DevOps with Lego and Chocolate Game:
"Lot's of fun, great energy and group dynamic. Tangible illustration of benefits of DevOps-> CI-> CD"
"Game got people to realize (via actions) how much value there is in learning about what people in different groups do"
"Fun, Informative, Interactive - drove home important key real live problems"
---
Additional Game supplies available (free shipping in continental US only)
DevOps Culture Starter Kit:
1) complete set of materials needed to facilitate the game (except Lego and Chocolate)
2) Signed copy of Dana's "Introduction to DevOps with Chocolate, LEGO and Scrum" book
3) Role cards for 21 players
4) One deck of "Fear in the Workplace" game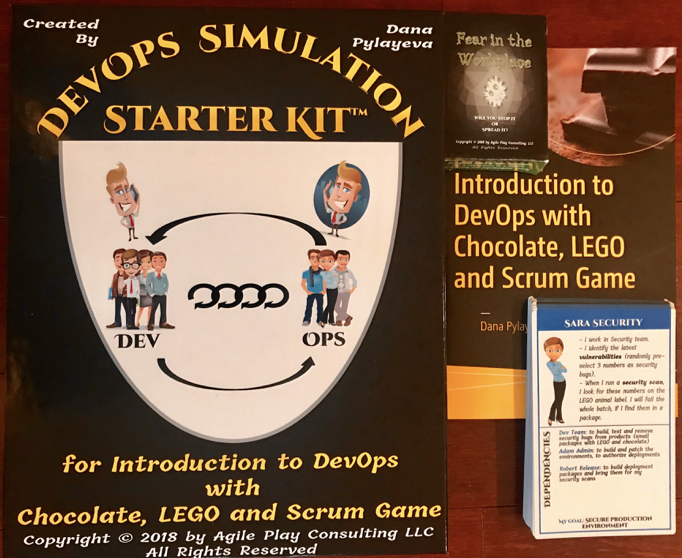 About Introduction to DevOps with LEGO and Chocolate game:
Inspired by "The Phoenix project" as well as Dana's hands-on experience (10 years on the Dev side and 2 years on the Ops side). Developed using principles from Game Design, Gamification and Training from the Back of the Room.
Originally created in 2014, the game has been delivered to over 900 people in 15 countries. Facilitators in other countries helped translate it to Spanish, French, Russian and Chinese. Check it out on YouTube
Date and Time
Refund Policy
Refunds up to 30 days before event