Come and join a virtual session of science fun making a rainbow in a jar!
About this Event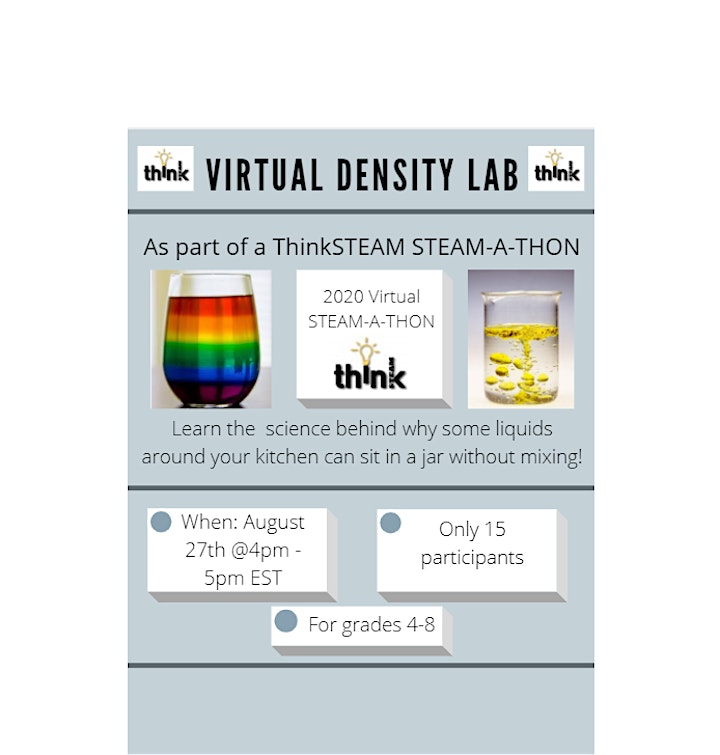 Get your mind off quarantine and let's get down to some science business. Learn the science behind how liquids from your kitchen can stack on top of each other making a cool rainbow!
You can find all of the ingredients in your pantry
If you haven't already, make sure you have a tablet, phone, or computer or any device with a web camera. We will leave 10 minutes in the beginning of the session for everyone to introduce themselves if you don't know each other already. Then, everyone's audio will be off so Shreya can instruct you on a step by step on how to create a rainbow in a jar! Then, Shreya will go through the science behind how the different ingredients can make something so cool in a jar. This is a family friendly activity that you can do at home with ingredients you can find right inside of your house!
The zoom links will be sent to everyone who registered prior to the workshop as well as some additional information.
**Please check your spam folder for emails if you have registered.
Ingredients:
1 jar
¼ cup blue dish washing liquid
¼ cup olive oil
¼ cup rubbing alcohol
¼ cup light corn syrup
Food coloring
5 spoons
5 bowls or cups for mixing
Salt
I hope to "see" you there!